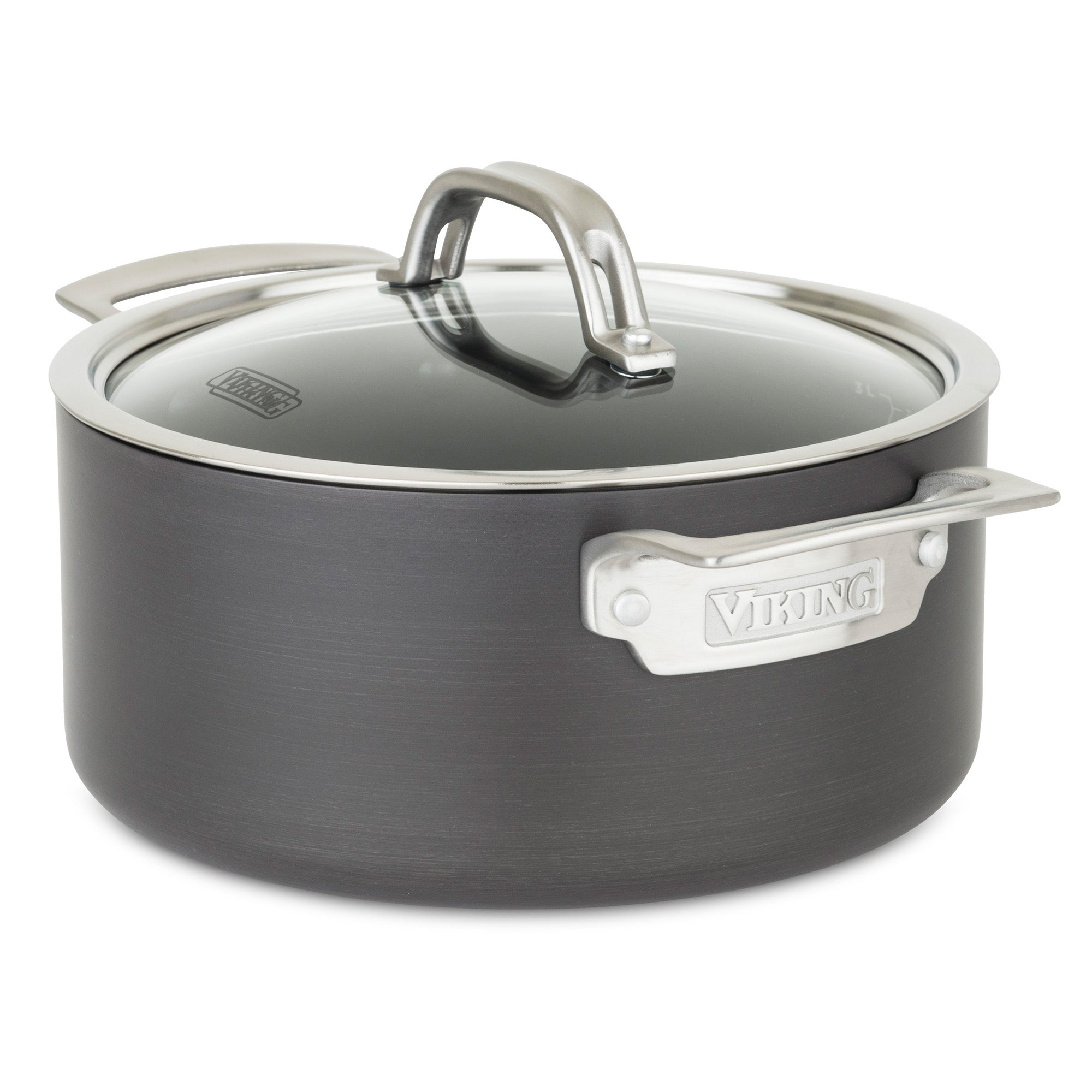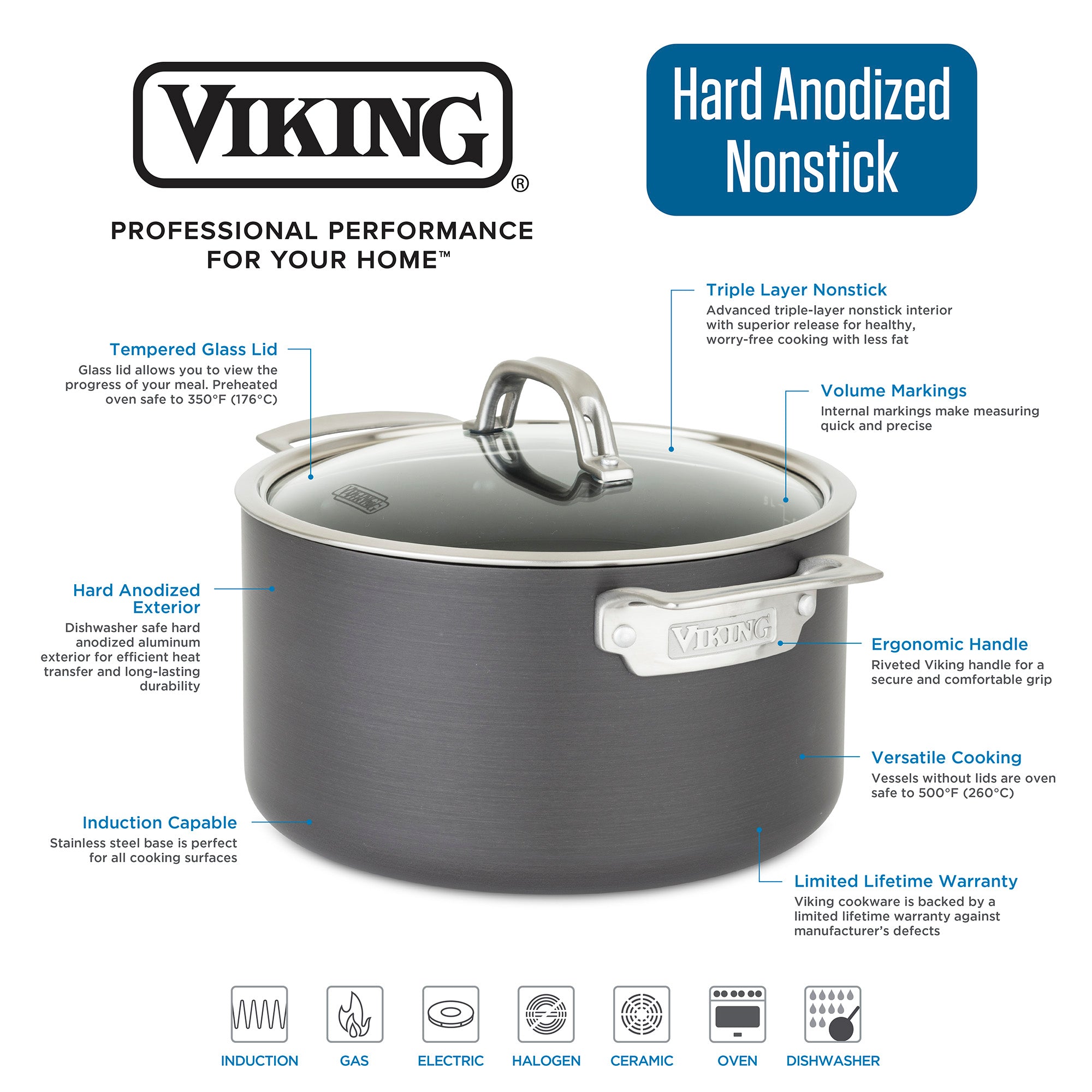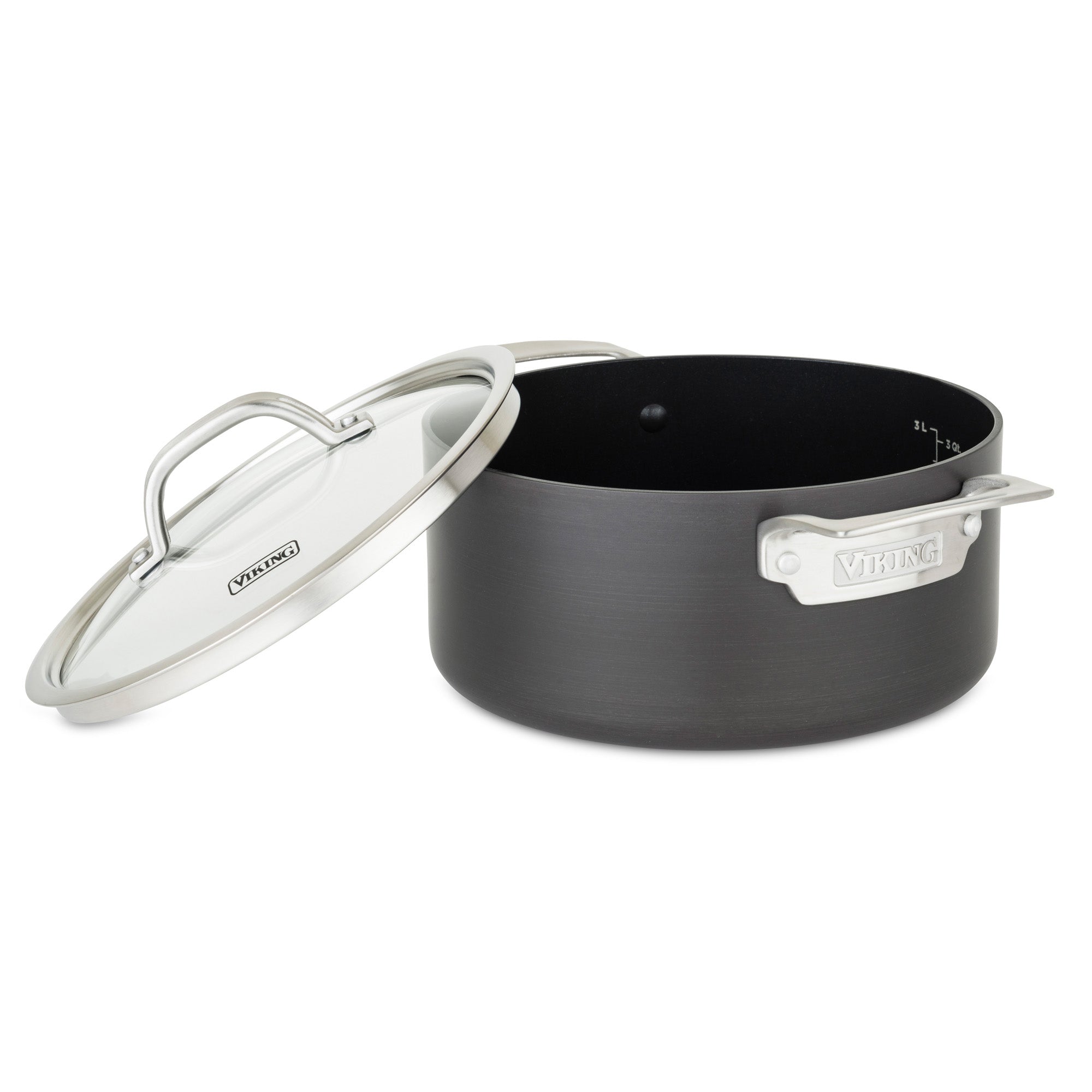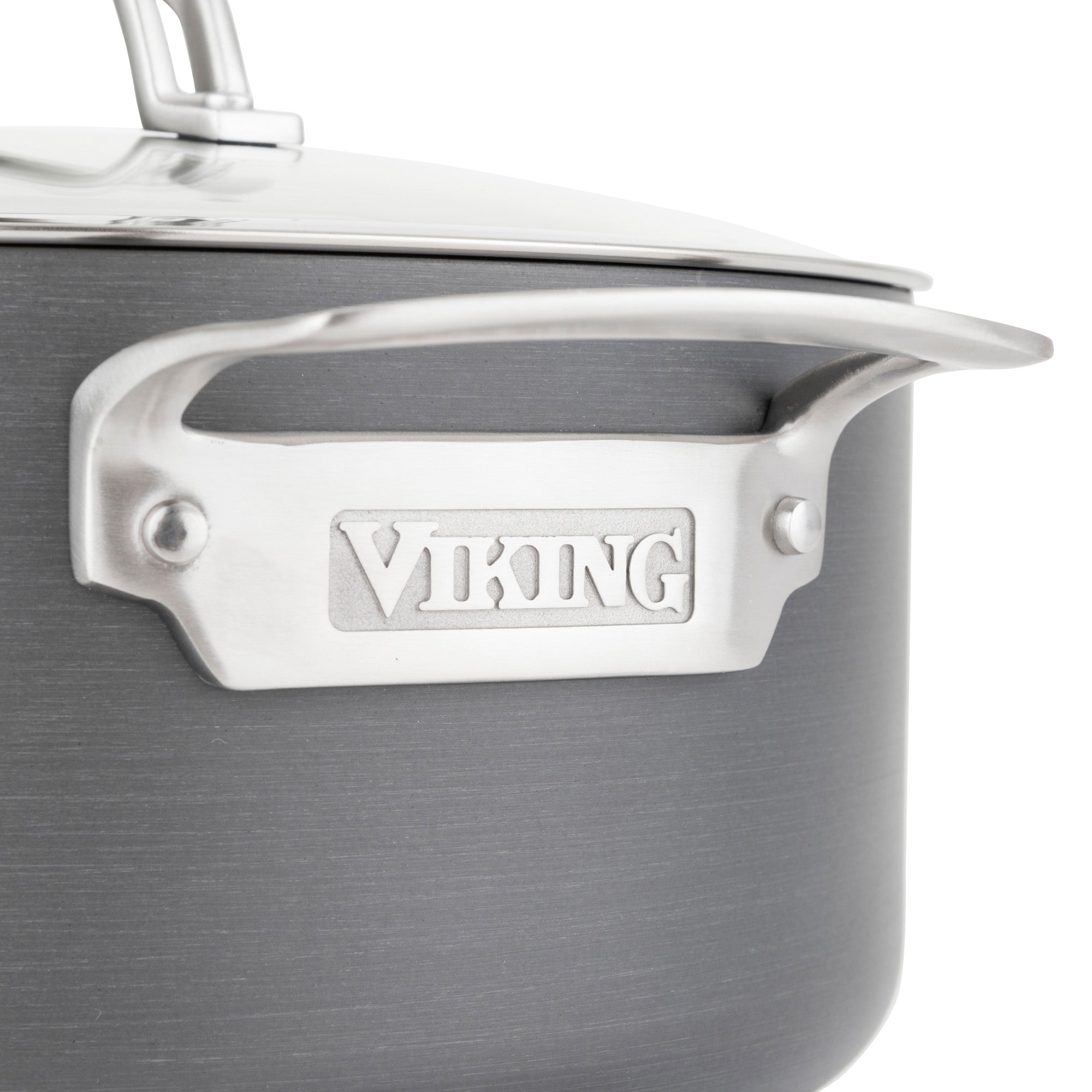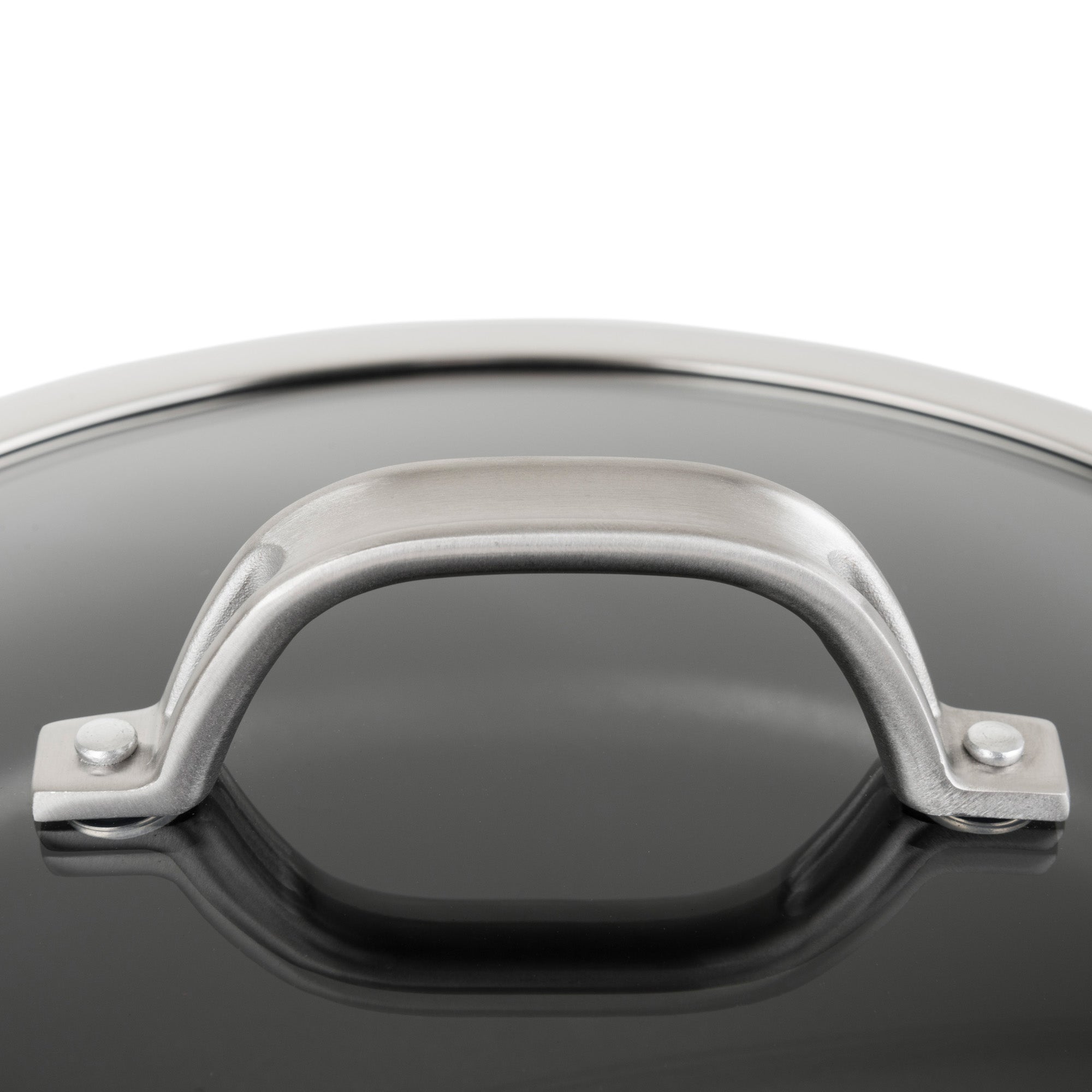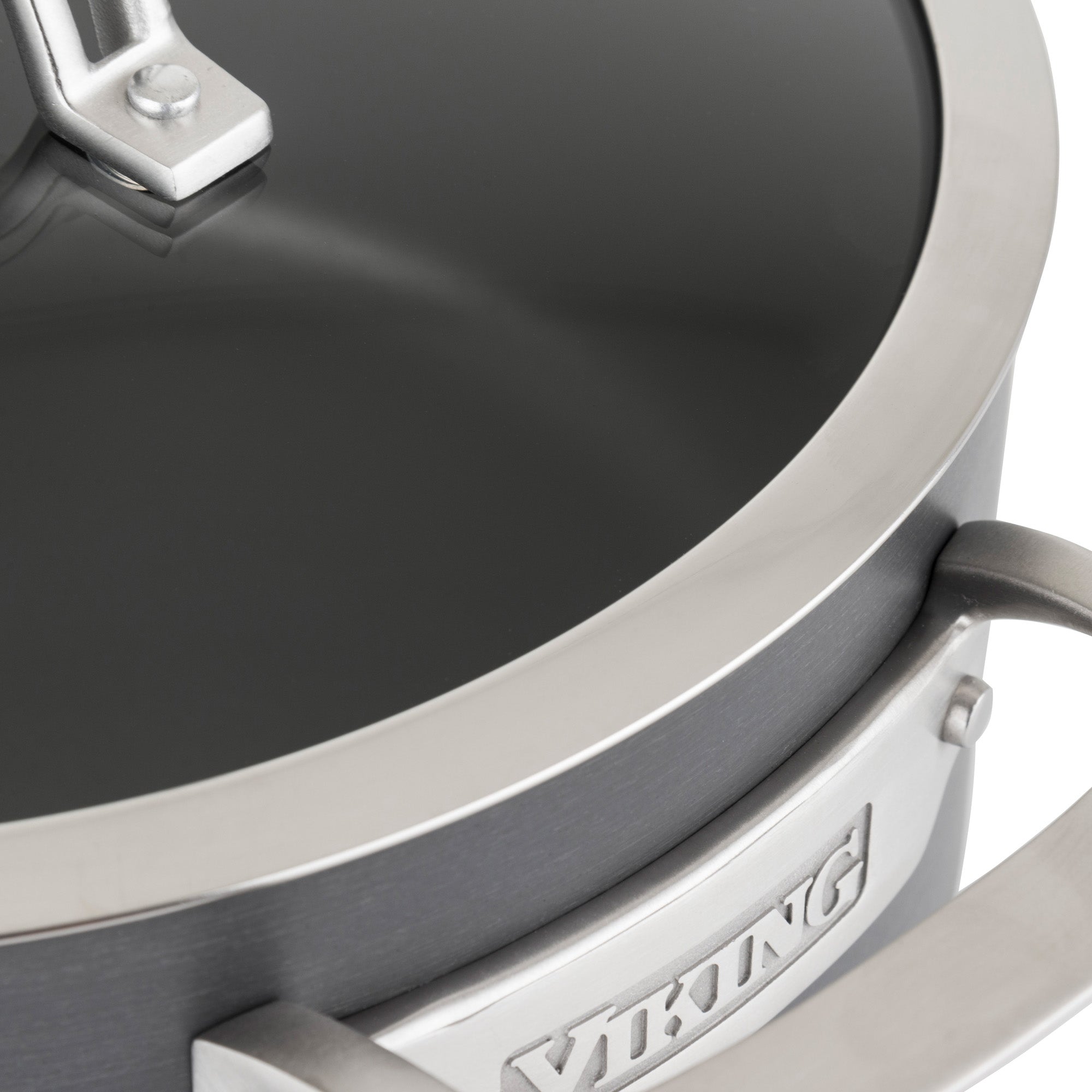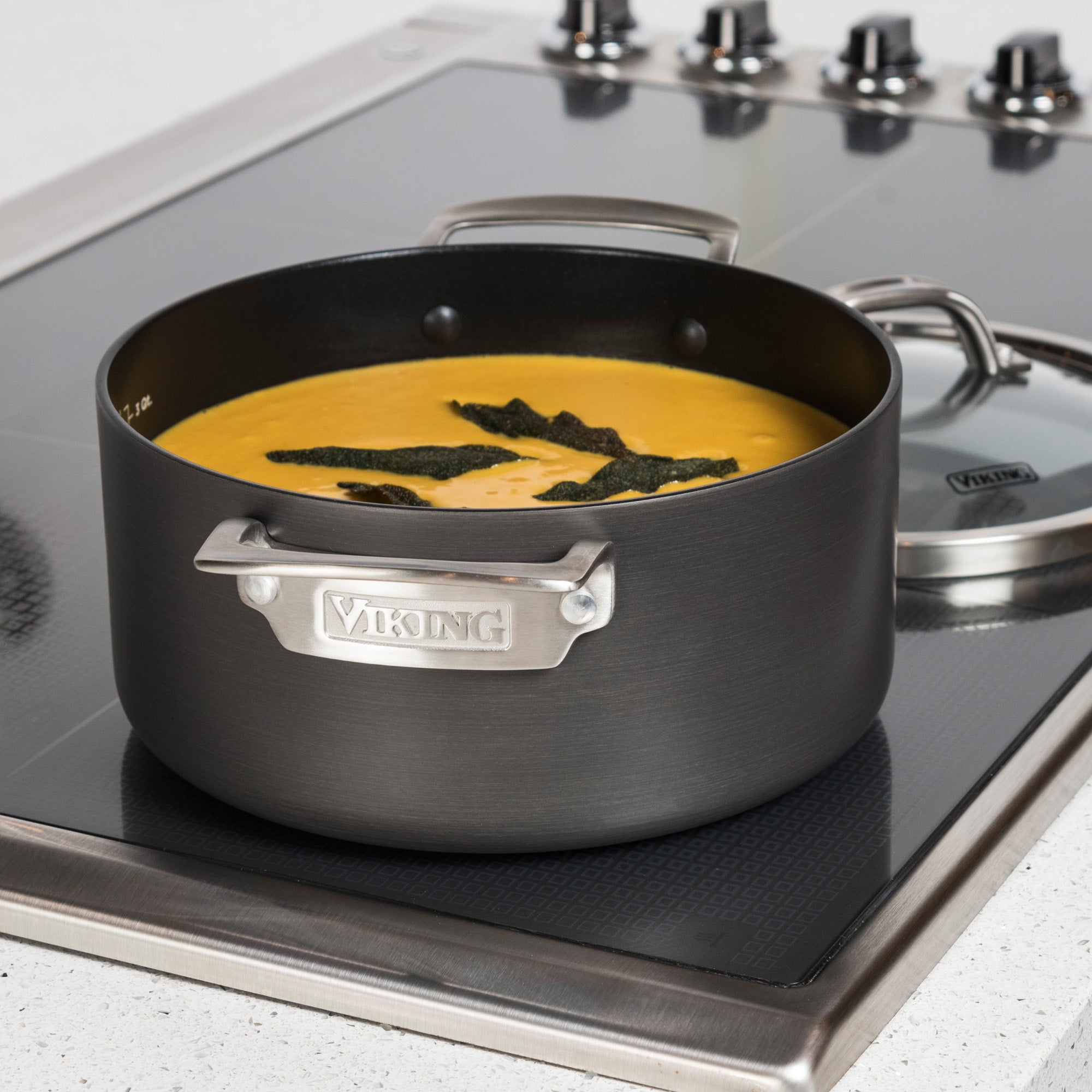 Viking Hard Anodized Nonstick 4-Quart Soup Pot with Glass Lid
Features:
4-Quart Soup Pot
Constructed with Triple-Layer Nonstick and Hard Anodized Aluminum
Features a Hard Anodized Exterior and Cut Rims.
Includes Look and Cook Domed Tempered Glass Lid for Evaporation Control and Heat Circulation
Riveted Signature Viking Stay-Cool Handles Designed For Balance, Comfort and Control
Safe up to 400°F/204°C; Glass Lids 350°F/176°C
Compatible with all Cooking Surfaces
Dishwasher Safe, Handwash Recommended
Limited Lifetime Warranty
Interior Capacity Markings for Easy Measuring
Experience even heat and exceptional release with Viking® Hard Anodized Nonstick Cookware. Constructed with heavy gauge anodized aluminum for durability and even heat distribution throughout the sides and bottom of the pan, Viking Hard Anodized Cookware features a stainless steel base making it exceptionally stable and compatible with all cooktops including induction. Accepted worldwide as one of the most conductive metals for cooking, the aluminum is strengthened through the anodizing process until it is twice as hard as stainless steel, giving you durability without giving up conductivity. Featuring an advanced triple-layer nonstick coating for superior release. The multi-layer coating improves release and protection even if the top layer is scratched over time. The fry pans feature flared rims for easy tossing and drip-free pouring, while the saucepans, sauté pans and Dutch oven feature cut rims to enhance the lid fit, helping to seal in moisture and nutrients inside the pan during cooking. The saucepans and larger vessels feature interior measurement markings for easy accurate addition of ingredients. Tempered glass lids allow you to "look and cook" as you watch the progress of your meal. Designed with ergonomics in mind, Viking signature handles are hand crafted from cast stainless steel and riveted to the pan for a lifetime of durability. Lid handles and long handles feature heat breaks to help them stay cool on the cooktop during use. Long handles feature a finger stop that guides your hand to the perfect grip for comfort, balance and control. Viking Hard Anodized Cookware can be used on all cooktops, including induction, in the oven, or on the grill up to 500°F, making it perfect for finishing dishes the same way a professional chef does. The glass lids are oven safe to 350°F. Viking Hard Anodized Nonstick Cookware is dishwasher safe, but we recommend hand washing to extend the life of the nonstick and to keep your cookware looking new. Viking Hard Anodized Nonstick Cookware is backed by a limited lifetime warranty.
For more information on compliance with California AB1200 and Colorado HB1345 please visit
www.clippercorp.com/disclosures.html
.