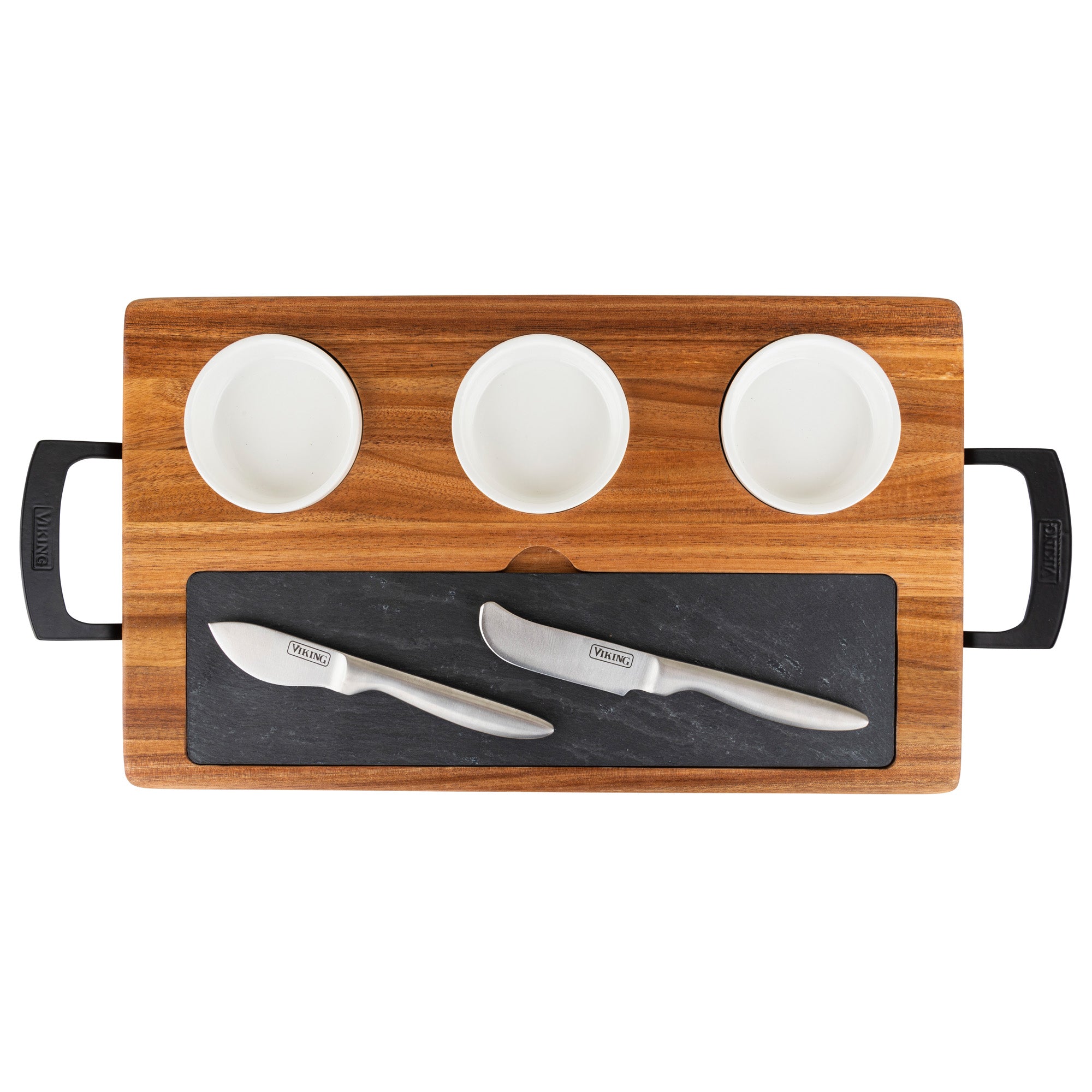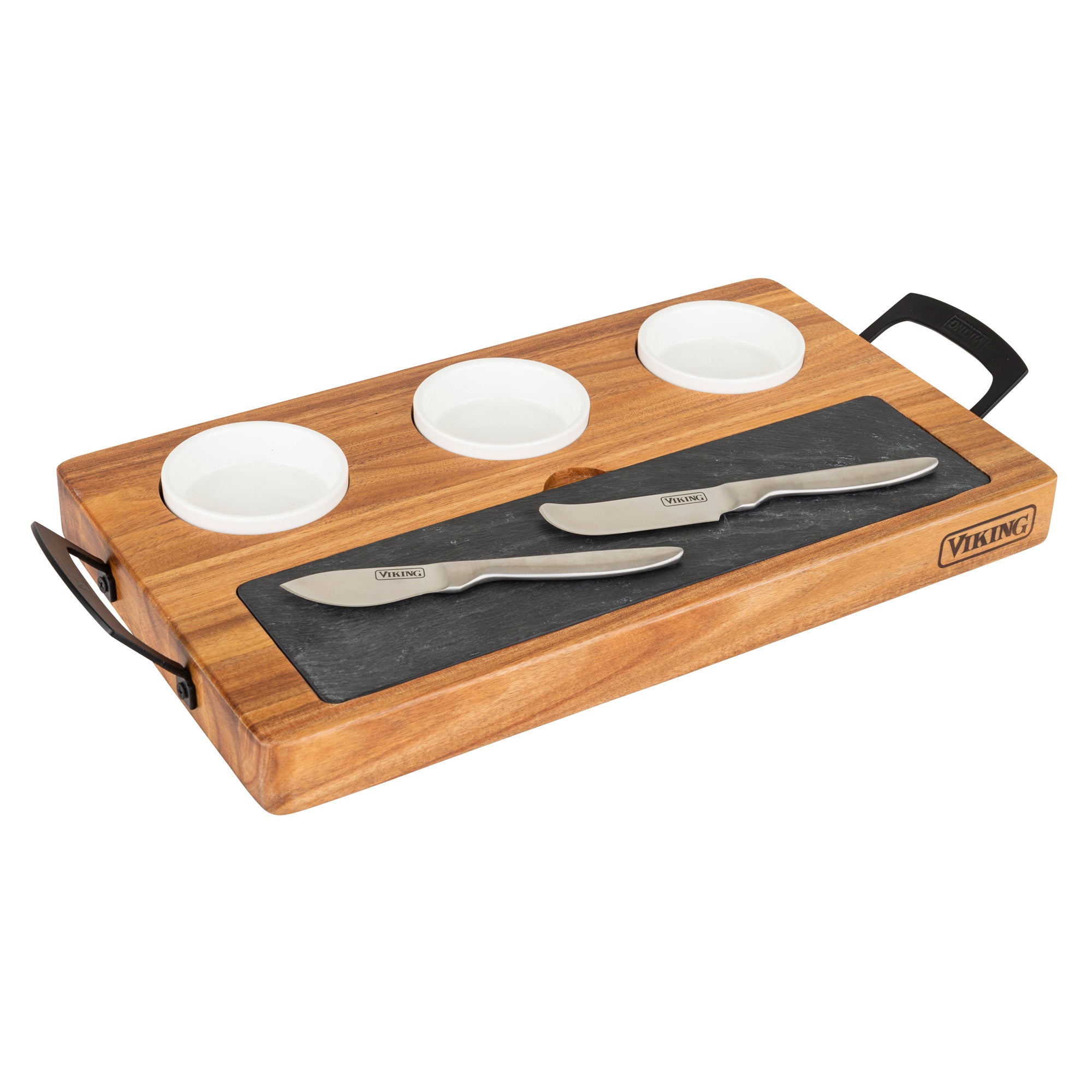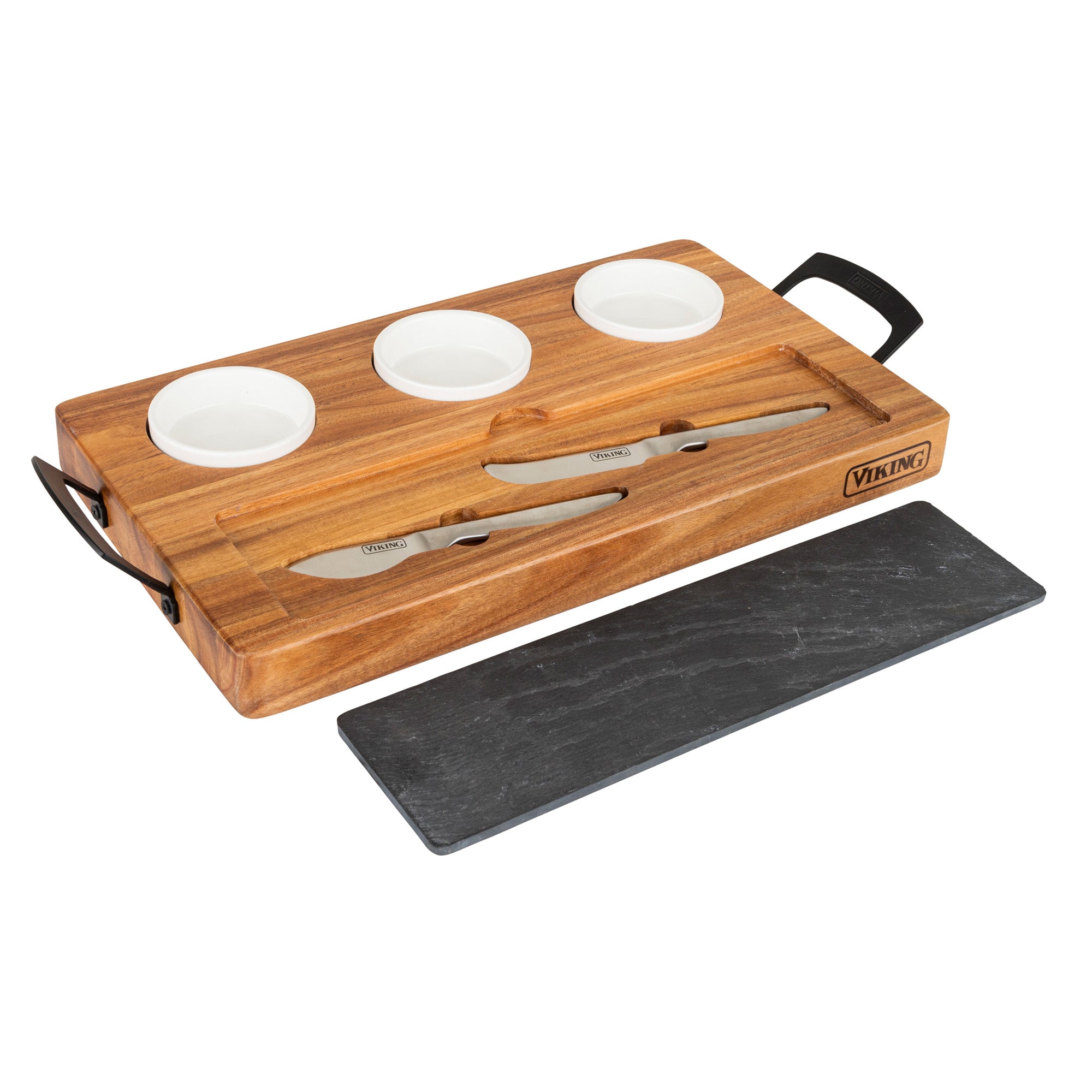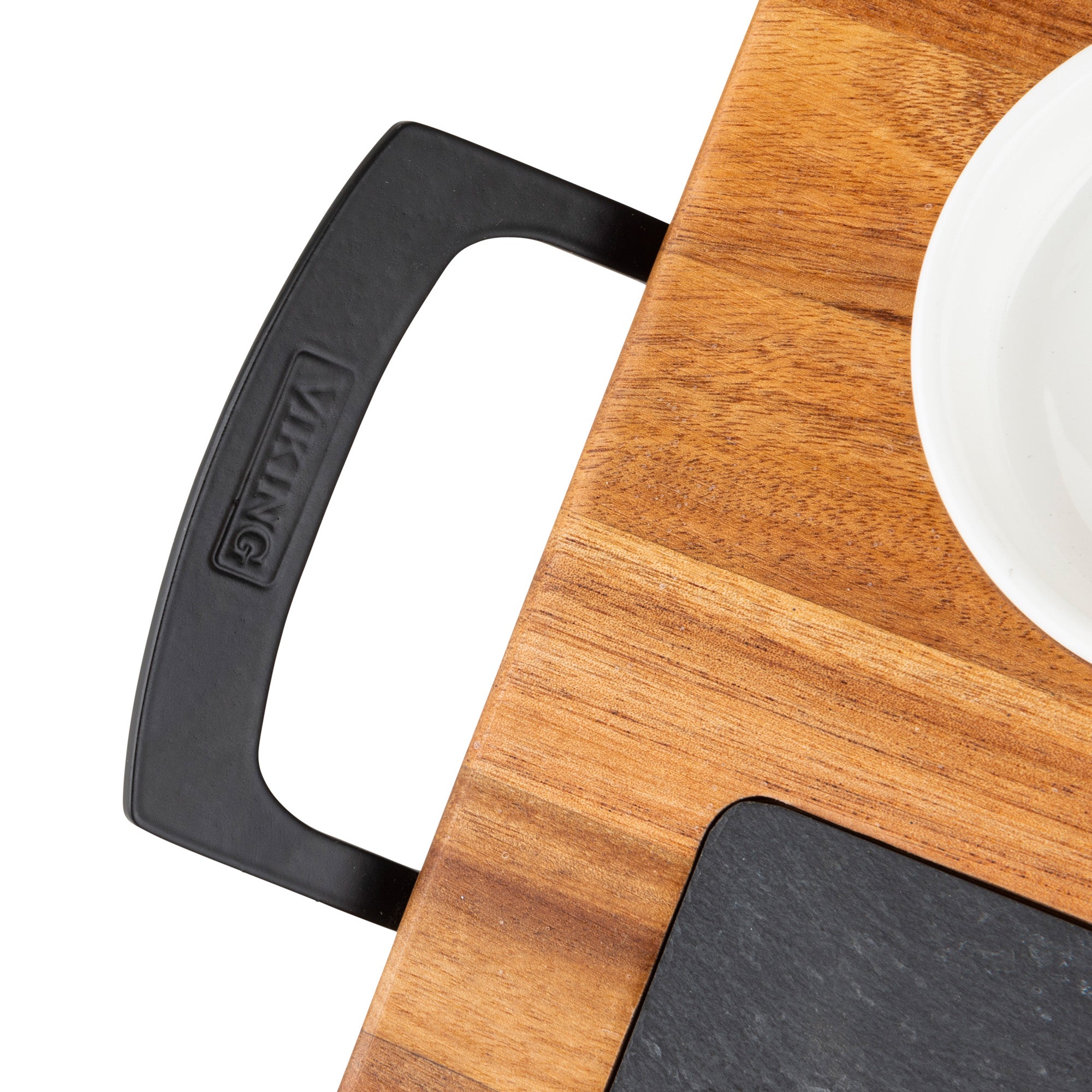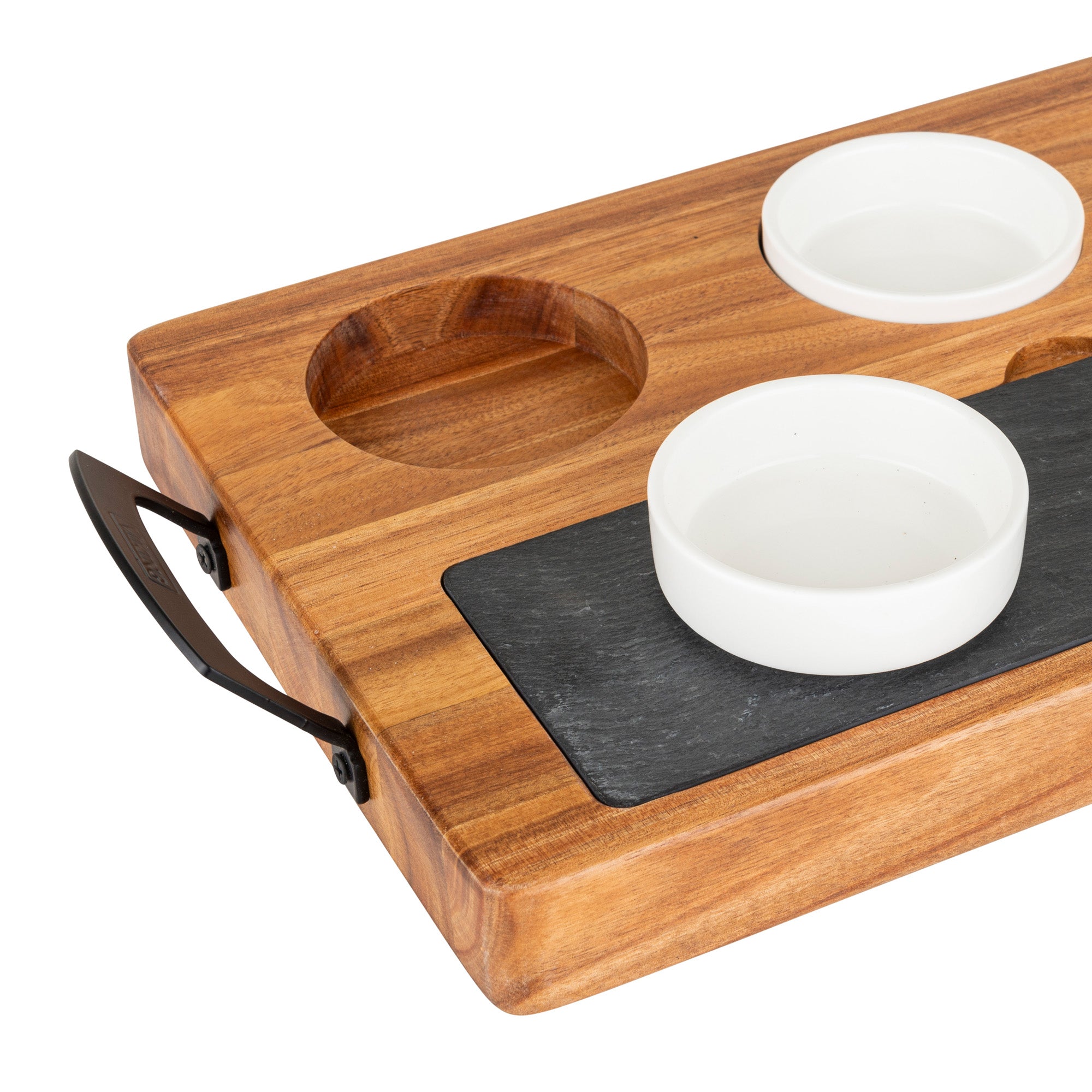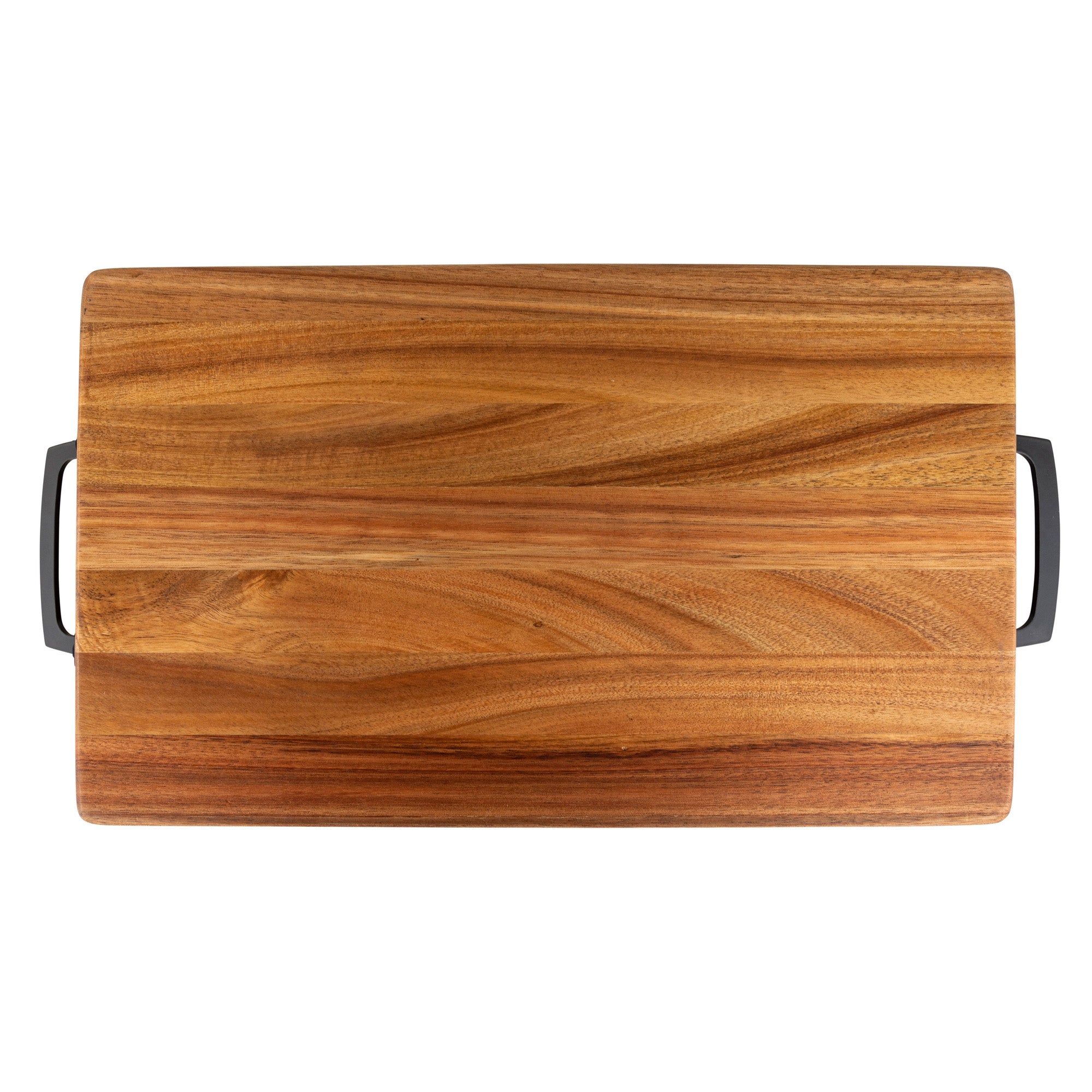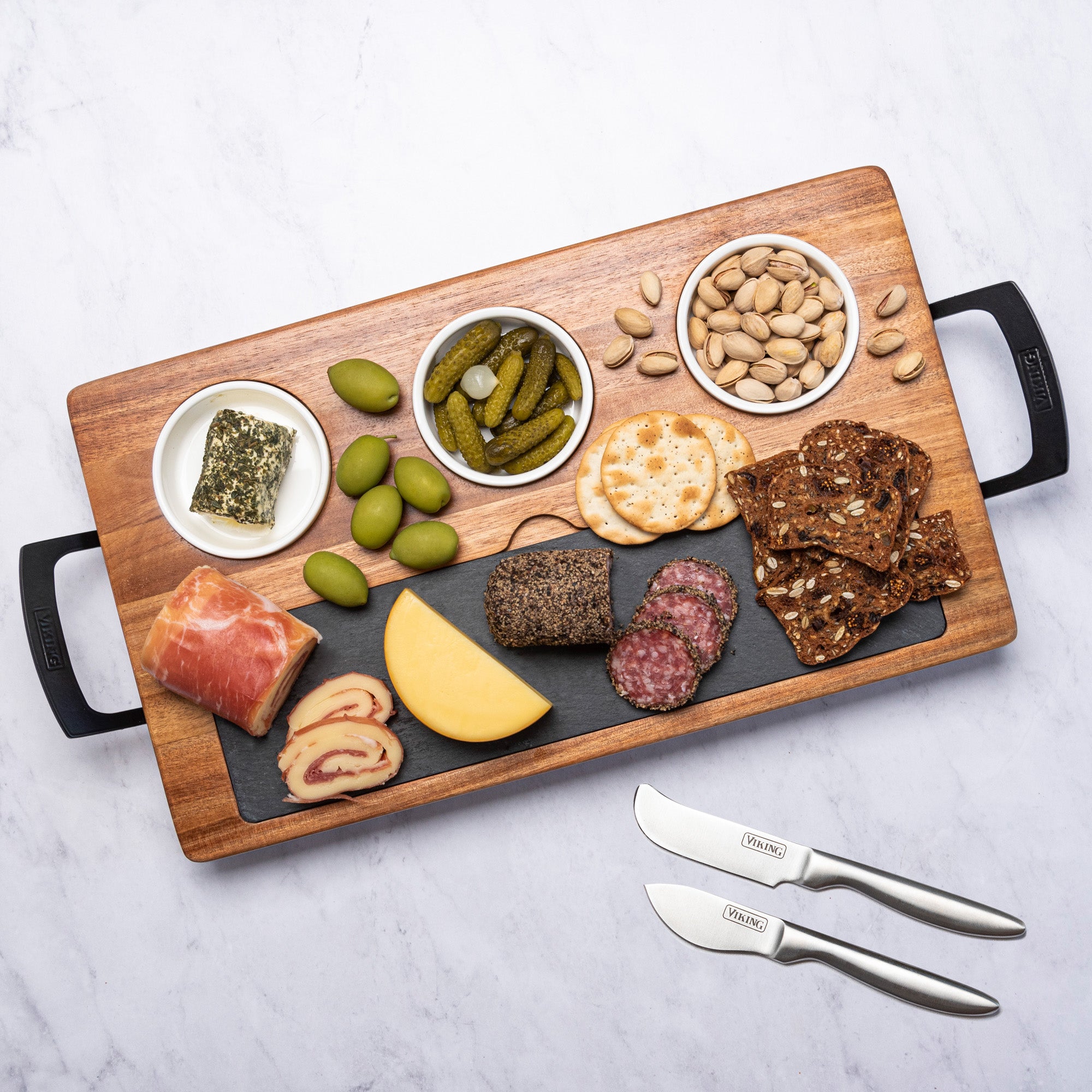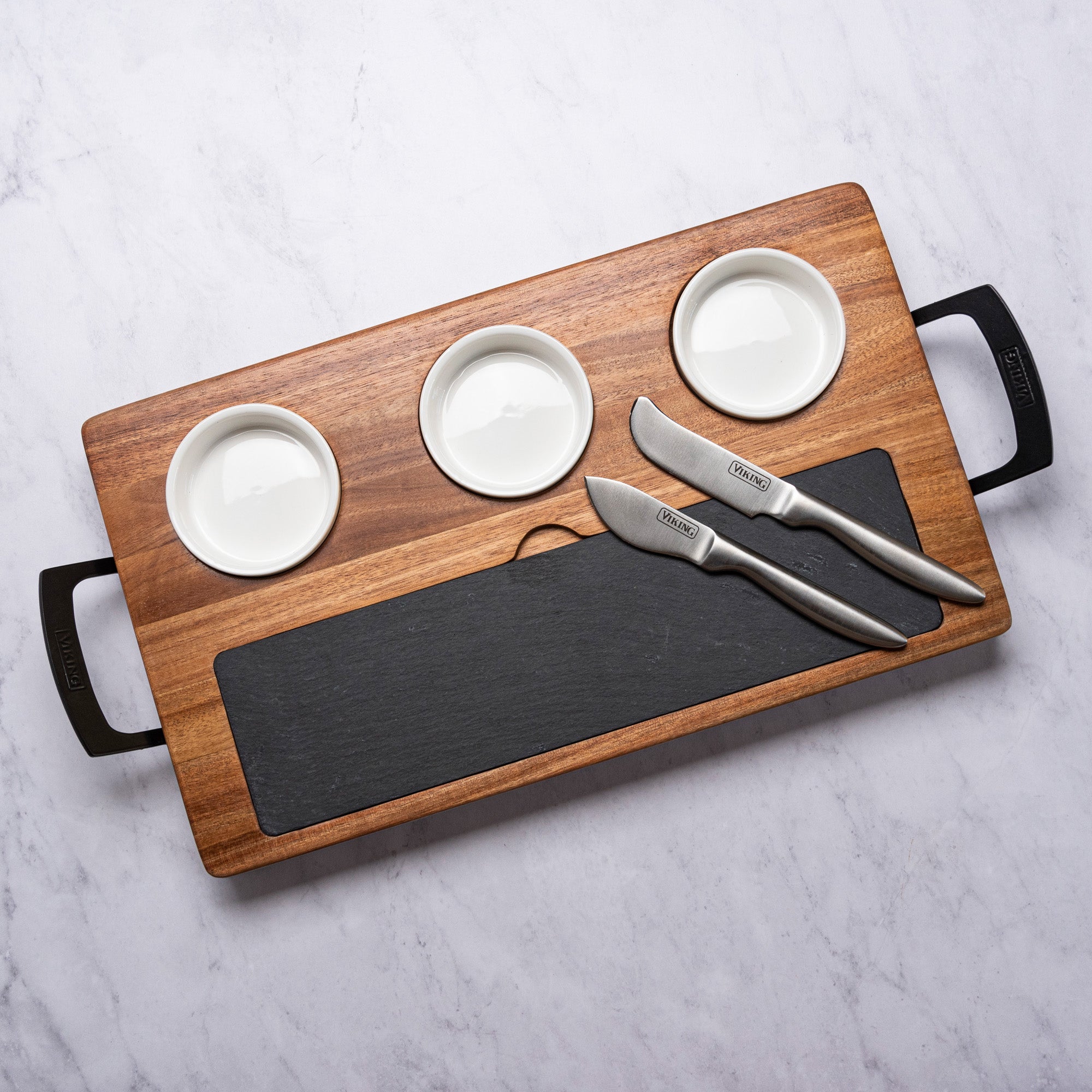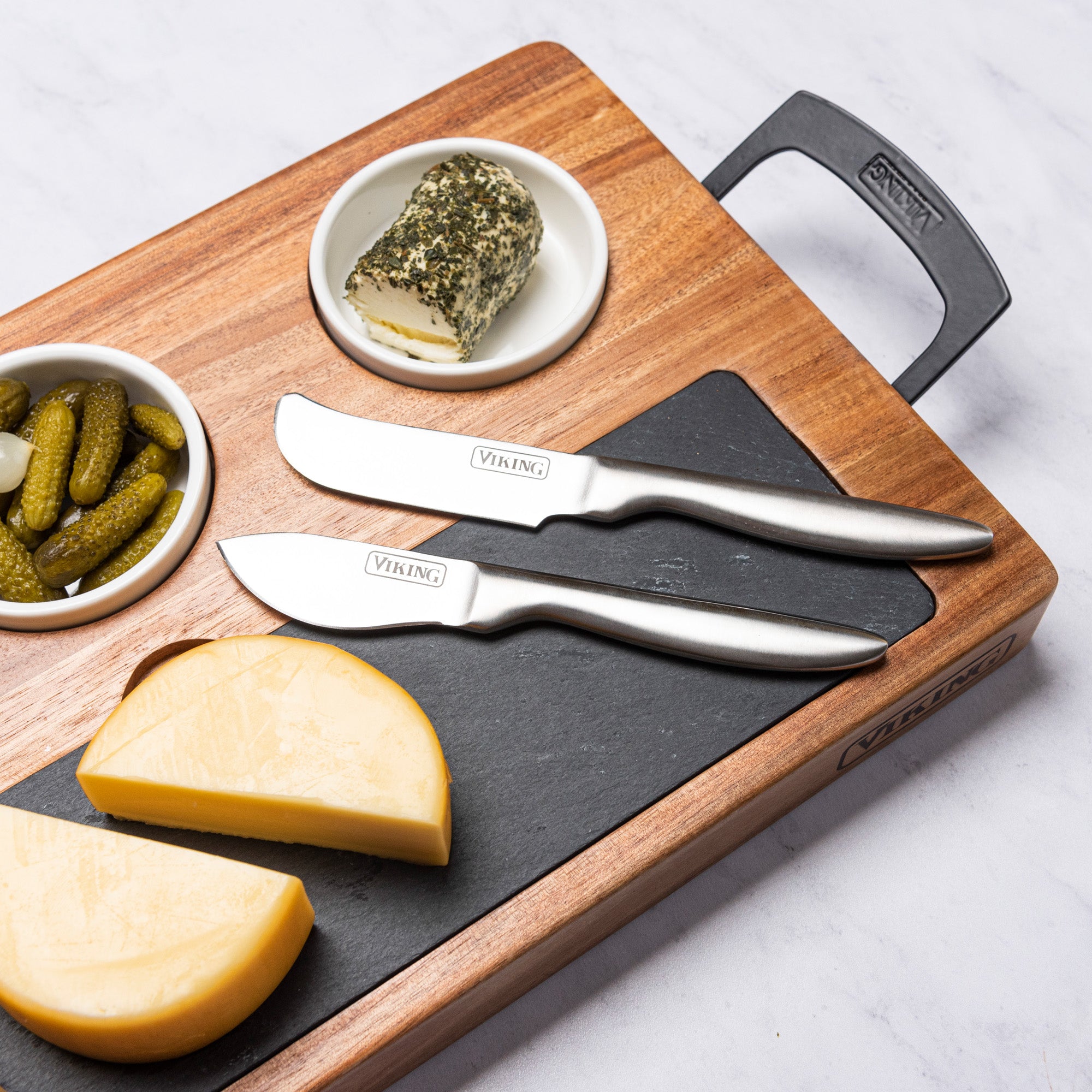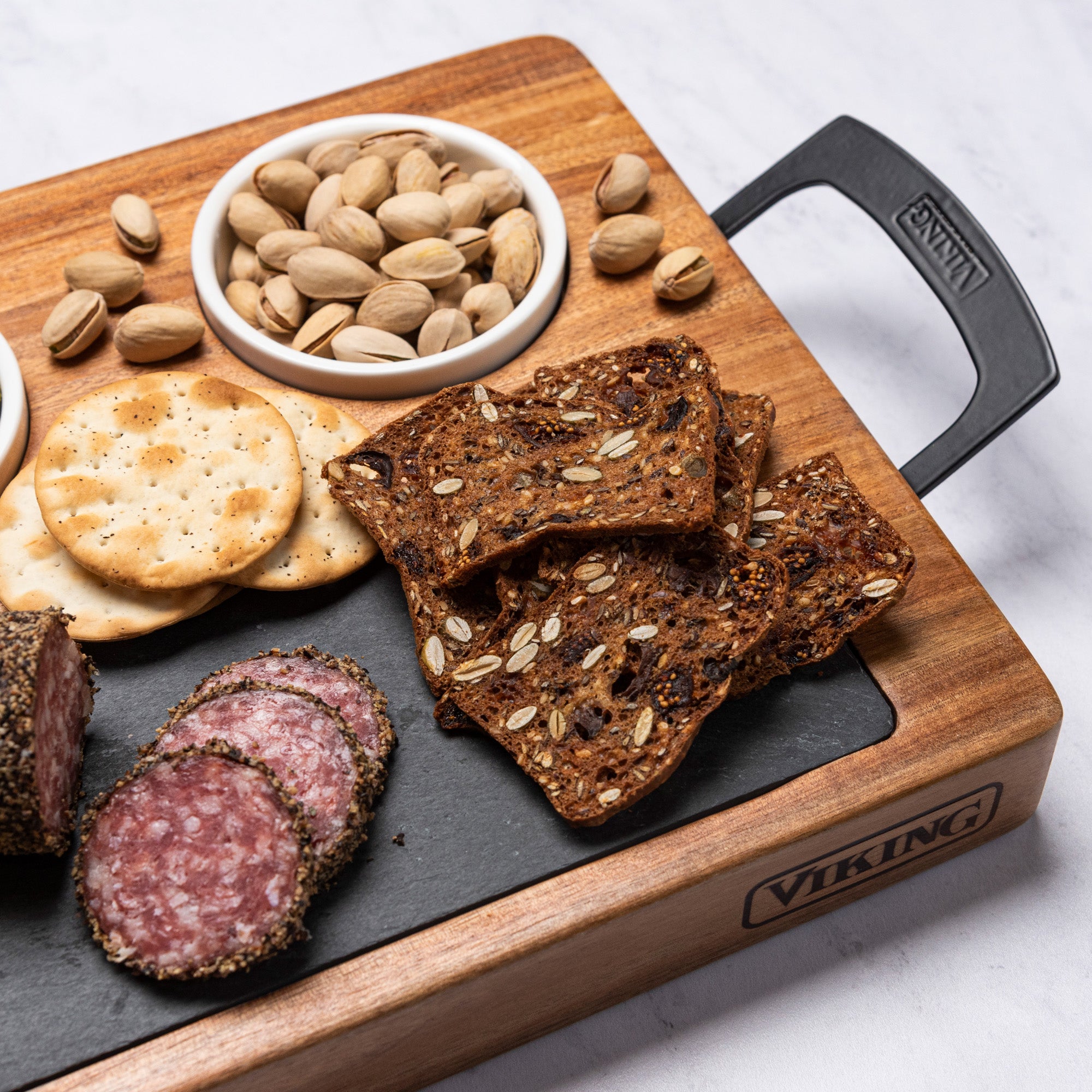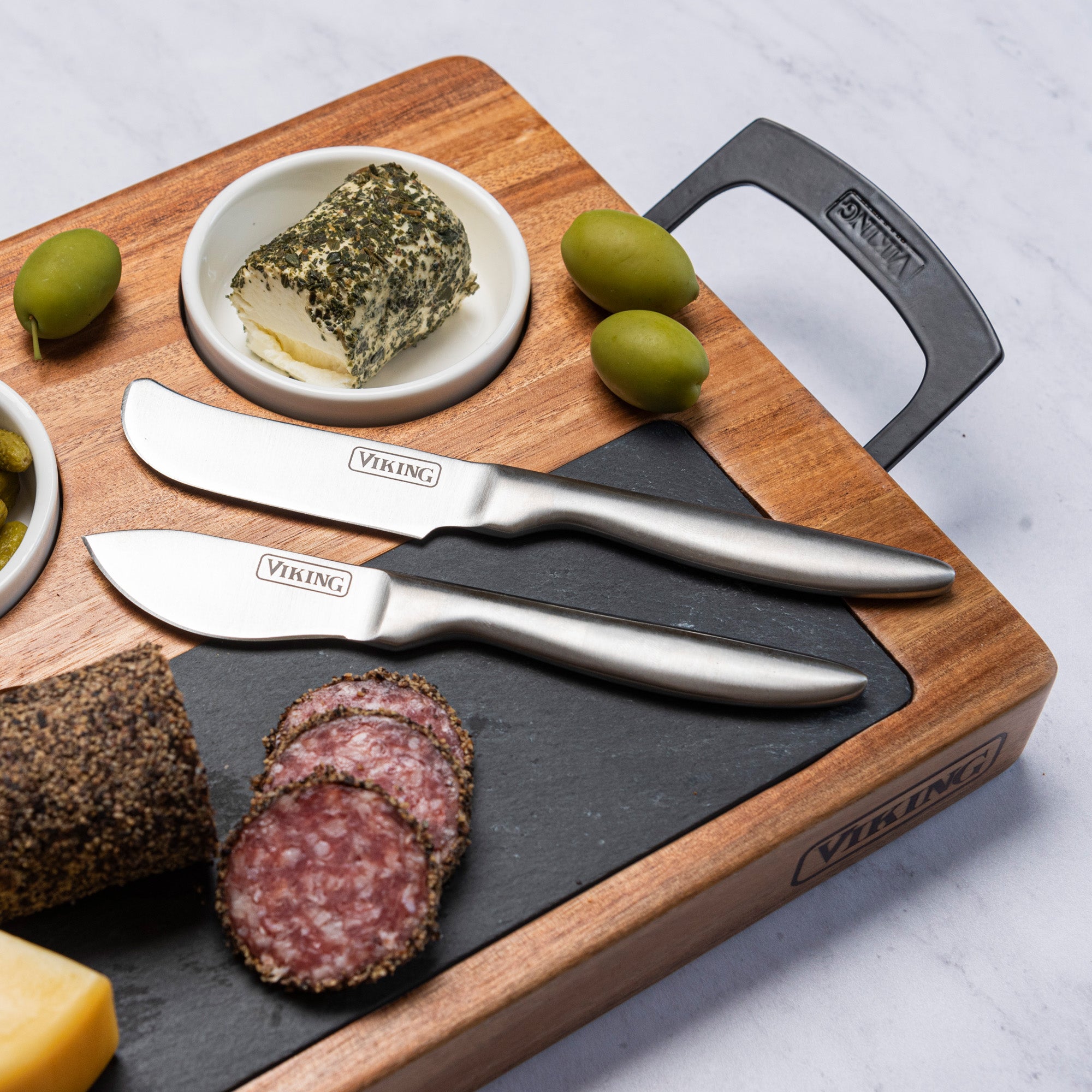 Viking 7-Piece Acacia Wood Slate Cheese Board Set
Features: 
16.75 x 9.75 x 1.625-Inch Acacia Wood Board with 

Ergonomic metal handles

14.0 x 3.75 x 0.25-Inch Slate Insert

3 3.5-Inch Ceramic Ramekins

2 Stainless Steel Cheese Knives

Crafted from Acaia Wood, which features a rich and colorful appearance
Easy to clean with; wash with warm water and light soap; not dishwasher safe
The Viking 7-Piece Acacia Wood Slate Cheese Board Set is an elegant way to impress your guests by serving a variety of appetizers on one board. The set includes a heavy-duty, sustainable, Acacia wood butcher block style serving board with ergonomic metal handles that make it easy to carry and maneuver. Three, 3.5" ceramic ramekins sit into recessed holes on the board for dips, dried fruits, olives, nuts, gherkins, grapes, sauces, super soft cheeses, and anything else you may want to add to your presentation. Each ramekin bowl holds about 3 ounces. The slate board is removable and perfect for both hard and soft cheeses and meats. You can even write the name of the cheese on the slate board with chalk (not included) so that your guests know the different types of cheeses you are offering. Underneath the slate board are two multi-function stainless steel cheese knives that are designed for both cutting hard cheeses as well as spreading soft cheeses and other spreads. The ceramic ramekins and knives are dishwasher safe. The slate board should be hand washed with warm water and soap and then immediately dried. Do not soak the board or slate. Maintain the serving board as you would any cutting board by periodically applying food-grade mineral oil to the board. If you need to wash the board, it can be wiped clean with a damp cloth. Because the knives are conveniently stored under the slate board, we encourage you to use caution when moving the board so that the slate piece and ramekins don't fall out during movement or storage. The set includes the serving board, slate, three ramekins, and two stainless steel cheese knives. The entire set ships in a giftbox, making it an ideal gift for weddings, as a host/hostess gift and more.