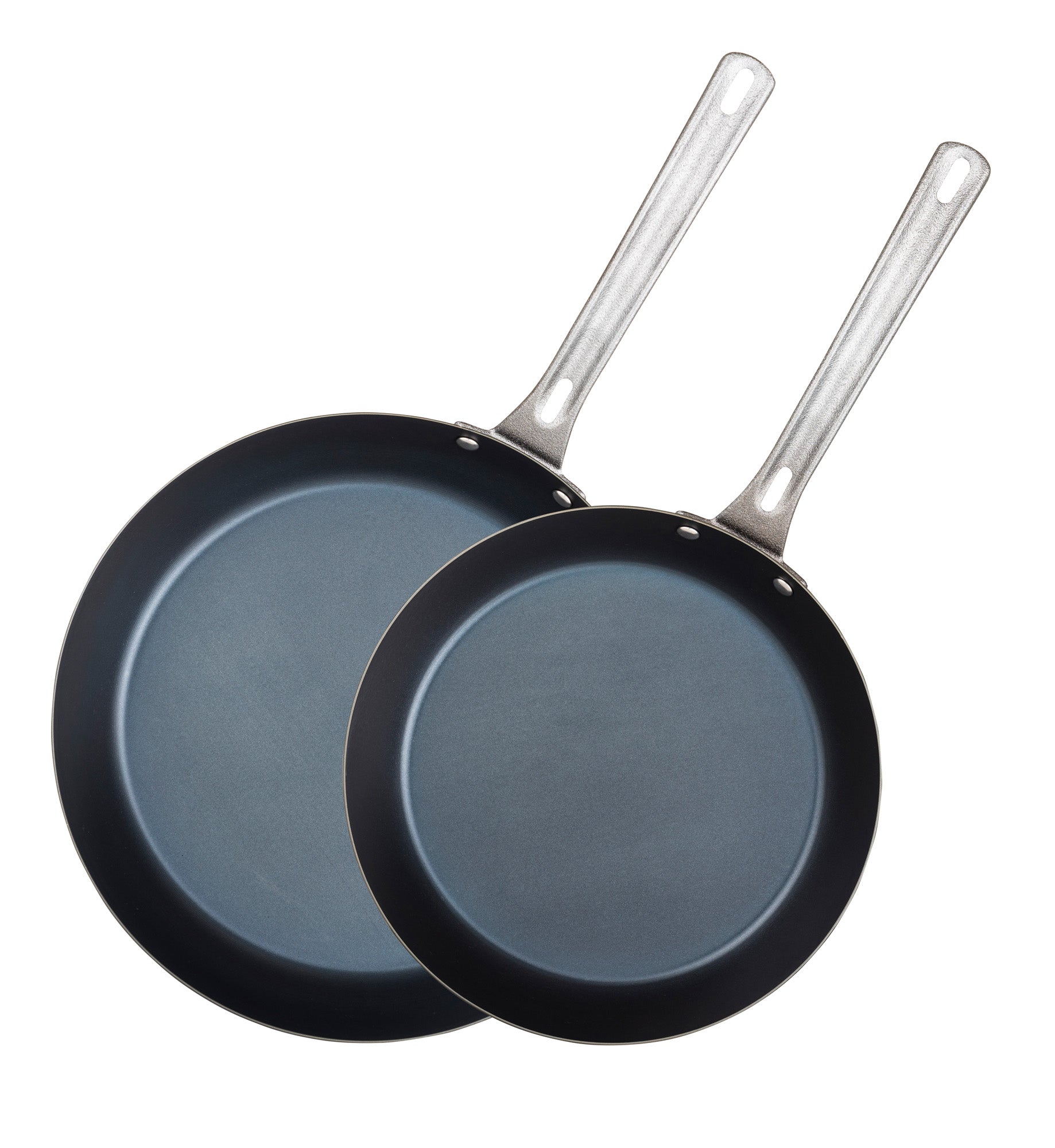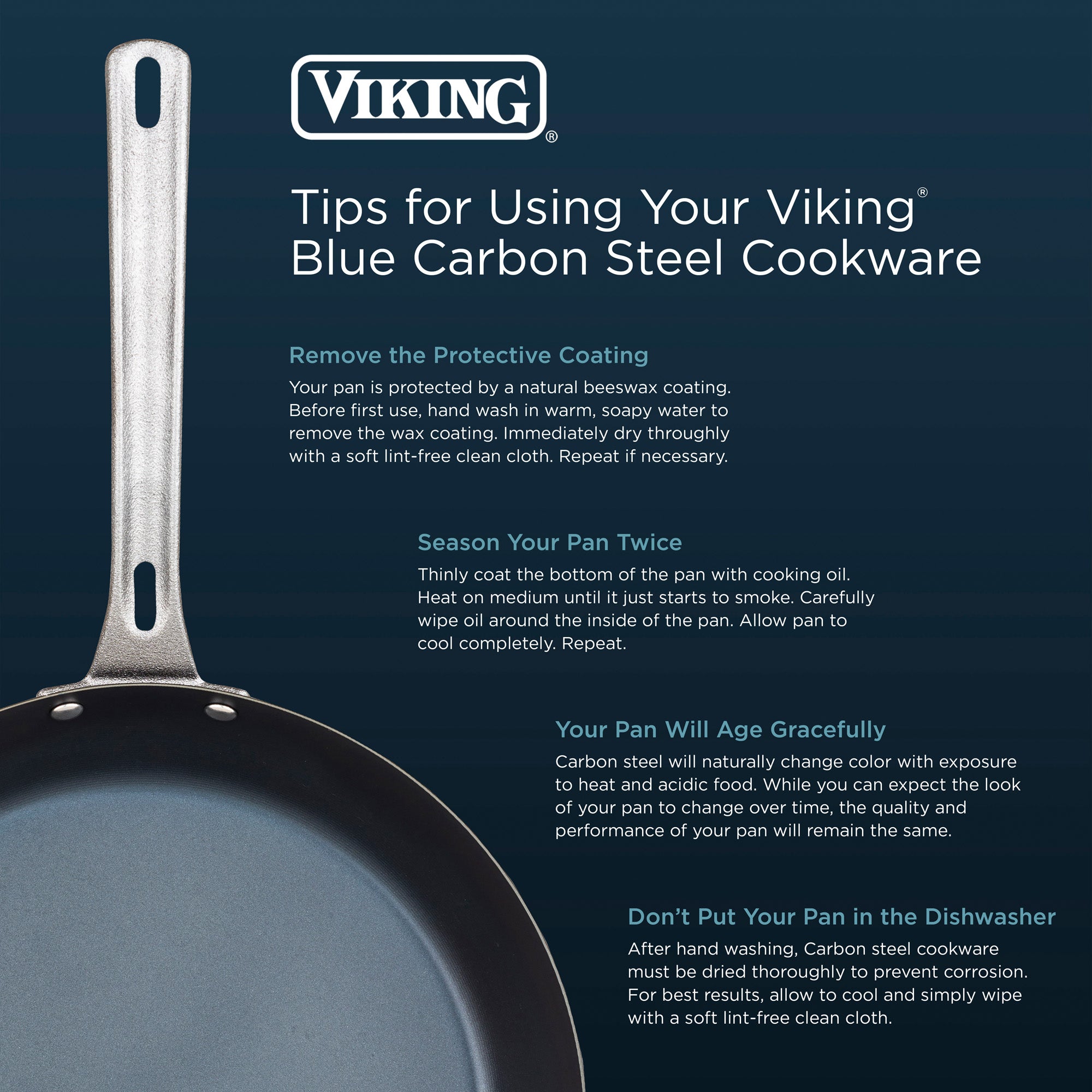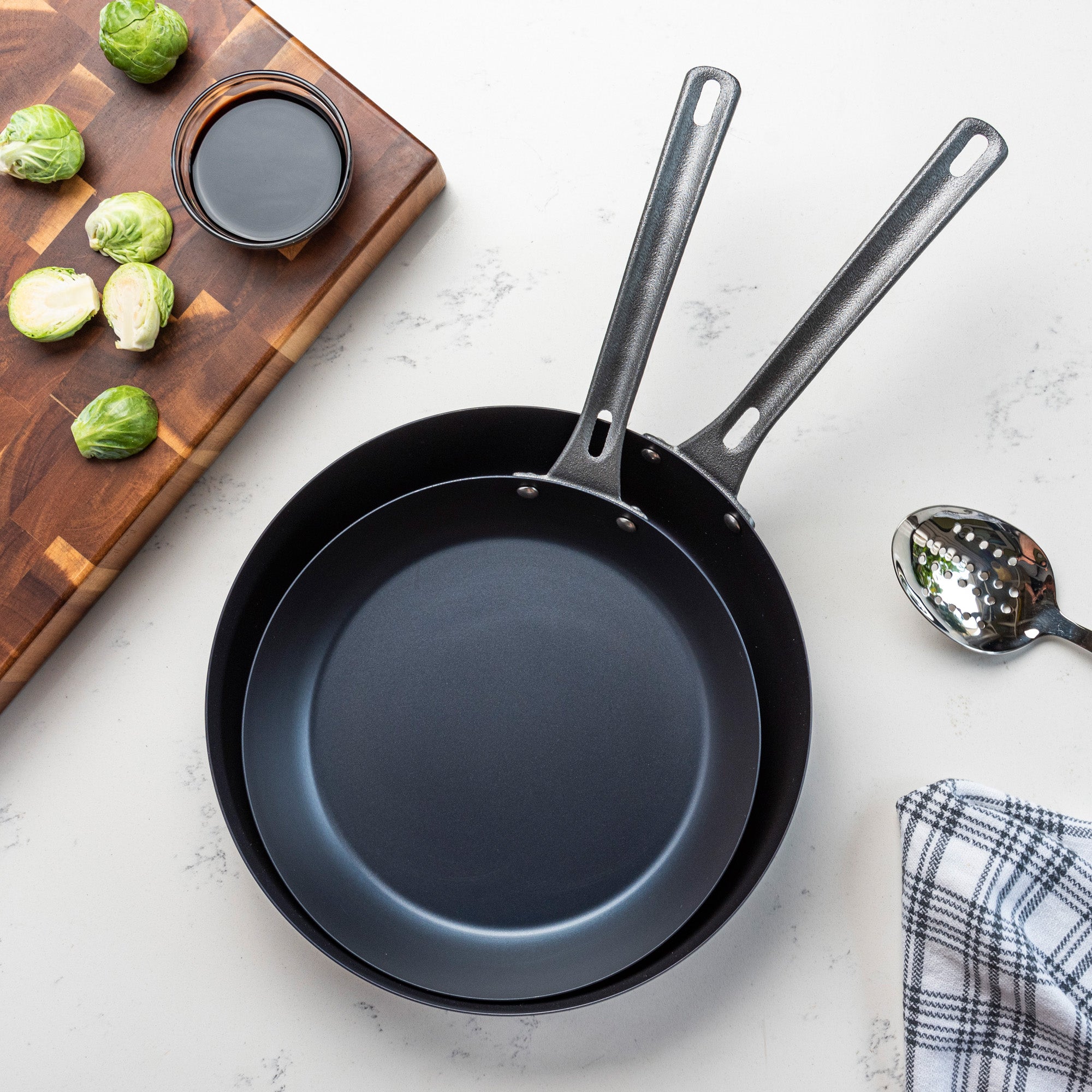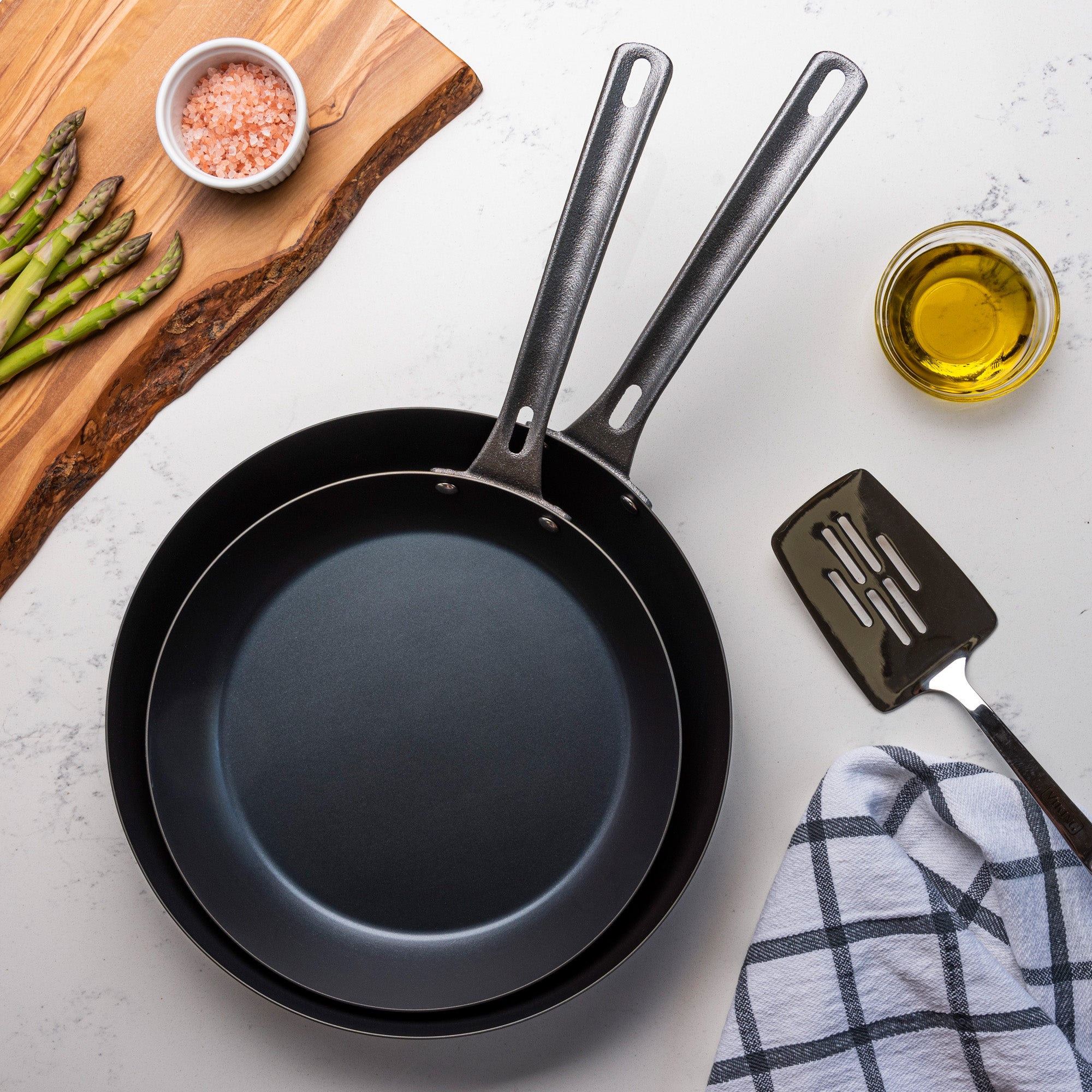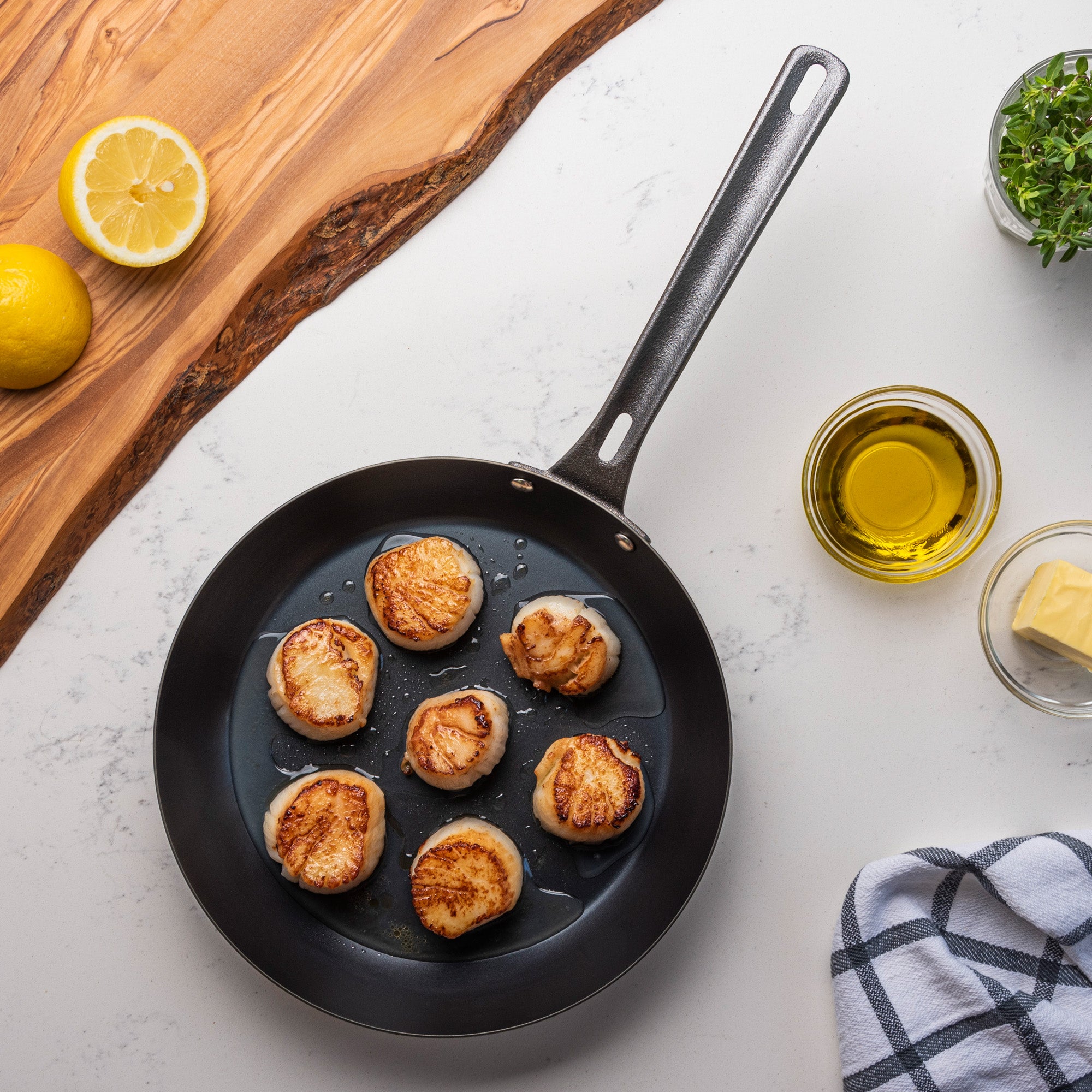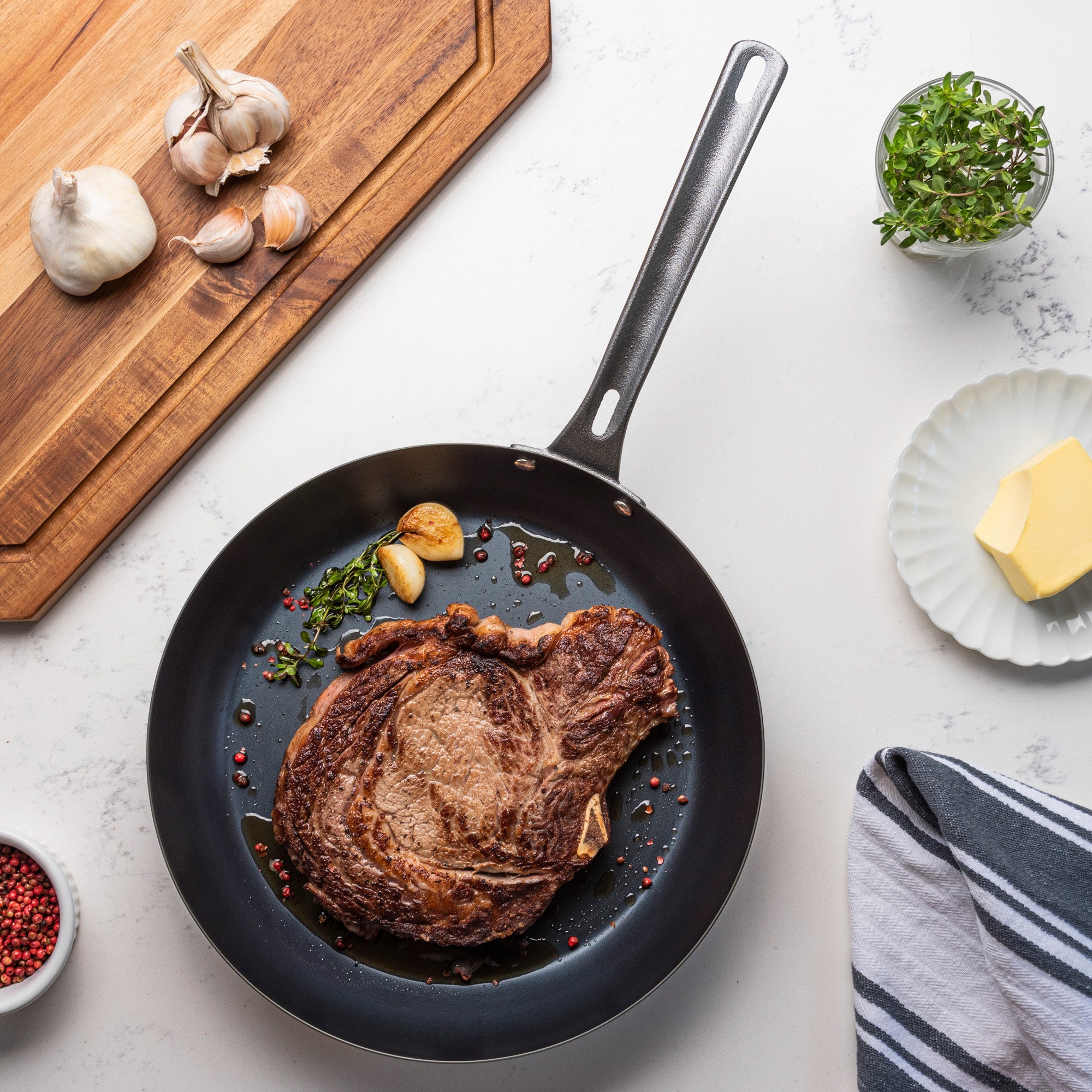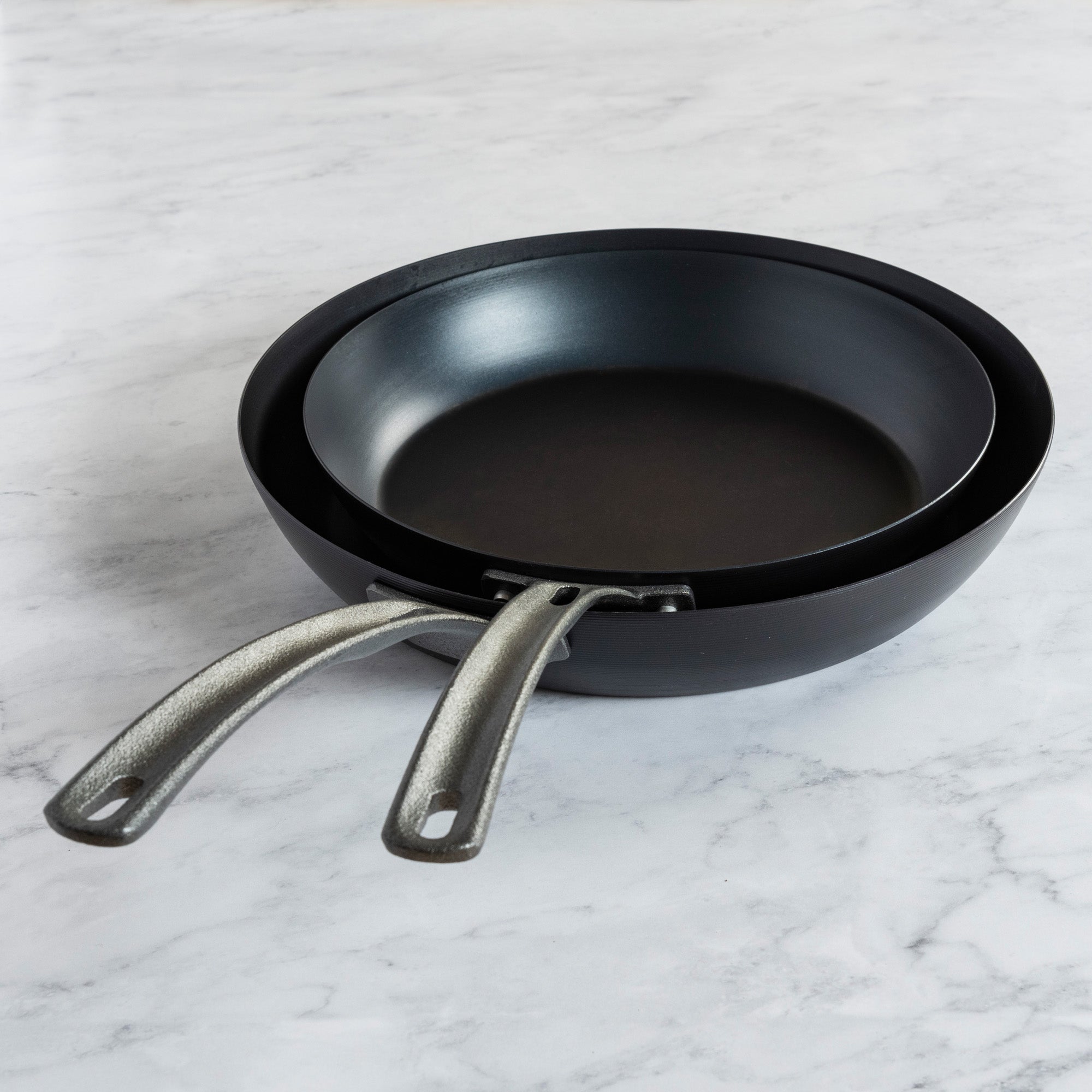 Viking 2-Piece Blue Carbon Steel Fry Pan Set
Features:
Includes 10-Inch & 12-Inch fry pans
Pre-seasoned carbon steel construction for healthy, lightweight and long-lasting cookware
Features a matte finish and cut rims
Stainless Steel Handles
Safe up to 450°F/232°C
Compatible with all Cooking Surfaces; Electric, Gas, Grill, Induction, & Oven Friendly
Hand wash Only
Limited Lifetime Warranty
Blue carbon steel is lighter and more maneuverable than cast iron, making it easier for those who struggle with the weight of cast iron
The special alloy that makes up blue carbon steel is designed to resist rust and corrosion more effectively than cast iron, reducing the amount of time and energy spent on care and maintenance
Carbon steel cookware is touted by many as the perfect blend between clad cookware and cast iron, delivering the superior heat transfer of cast iron for searing and the even distribution of clad 3-ply cookware
Naturally nonstick due to the vegetable oil seasoning
As a thinner alloy, blue carbon steel heats more quickly than cast iron while still maintaining its even and consistent heat distribution
Blue carbon steel is able to withstand high temperatures without damaging the pan, making it perfect for finishing steaks with a quick sear or sautéing a quick stir fry
For those who like cooking with cast iron but love the versatility of a clad stainless steel pan, shop the Viking Blue Carbon Steel 2-piece Fry Pan set. Featuring both a 10-inch and 12-inch size for added versatility, this fry pan set is made of carbon steel, an alloy that is a combination of iron and carbon. The "Blue" in "Blue carbon steel" references a heat treatment process to help resist rust and corrosion, a nuisance that can plague traditional cast iron pans. Stay-cool cast iron handles securely attach to the pans with heavy duty rivets for confidence in construction and a lifetime of use.
Though cast iron also excels as maintaining even heating, it can take time to rise to temperature and since iron itself is so brittle, more of the material must be used to make it durable, making traditional cast iron pans larger and heavier. With blue carbon steel, you'll have a pan that is noticeably lighter without sacrificing performance. And like cast iron, blue carbon steel also heats quickly and evenly, reducing the risk of hot spots from occurring. Blue carbon steel is also prized for achieving high temperatures quickly without fear of damage occurring to the pan itself. Viking Blue Steel is oven safe to 450°F for restaurant quality finishing in the oven. Like cast iron, your blue carbon steel pans will need to be seasoned regularly to maintain its nonstick properties. "Seasoning" refers to the process of coating the base of the pan with a thin layer of oil that imparts a flavorful taste to your foods while also protecting foods from sticking.
There are plenty of methods to seasoning your pan, but if this is your first time seasoning the pan, we recommend using very hot water and dish soap to first scrub the pan, then wipe dry and place it on the burner at low heat to finish drying. Add some oil to the pan and cook over medium heat for about 10 minutes. Then, let the pan cool and wipe with paper towels and your pan is ready for use! For future maintenance, simply rinse the pan with water after use and scrub gently with a soft-bristled brush or sponge if necessary (No need for soap!). Season with vegetable oil periodically to maintain its smooth cooking surface and nonstick properties. It is not recommended to put these pans into the dishwasher as it will remove the seasoning, reduction the natural nonstick and making the pan more susceptible to rust. Should you find rust on the pan, like natural cast iron, this can be normal. Just clean the rust off with a scrubby sponge and season the area with vegetable oil.