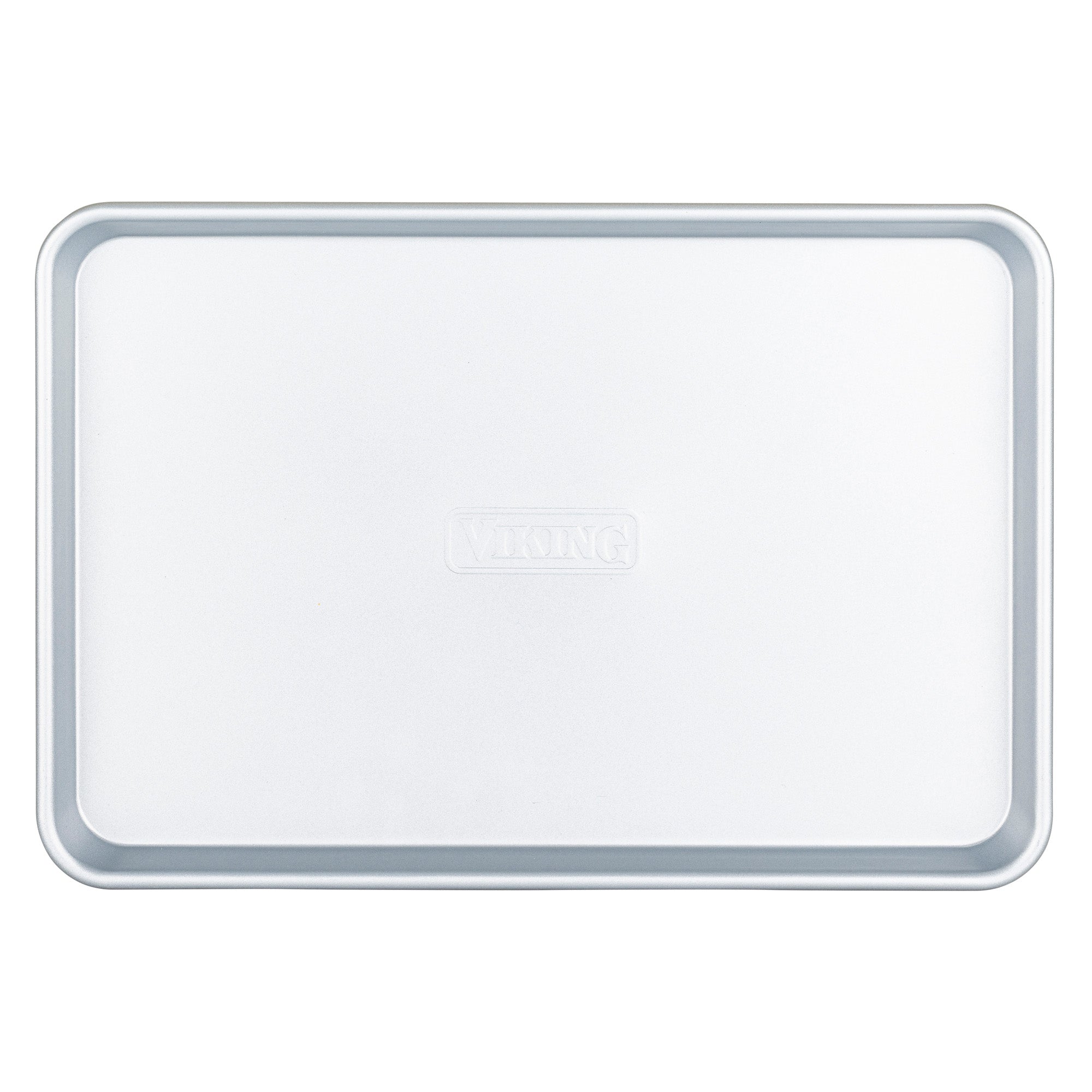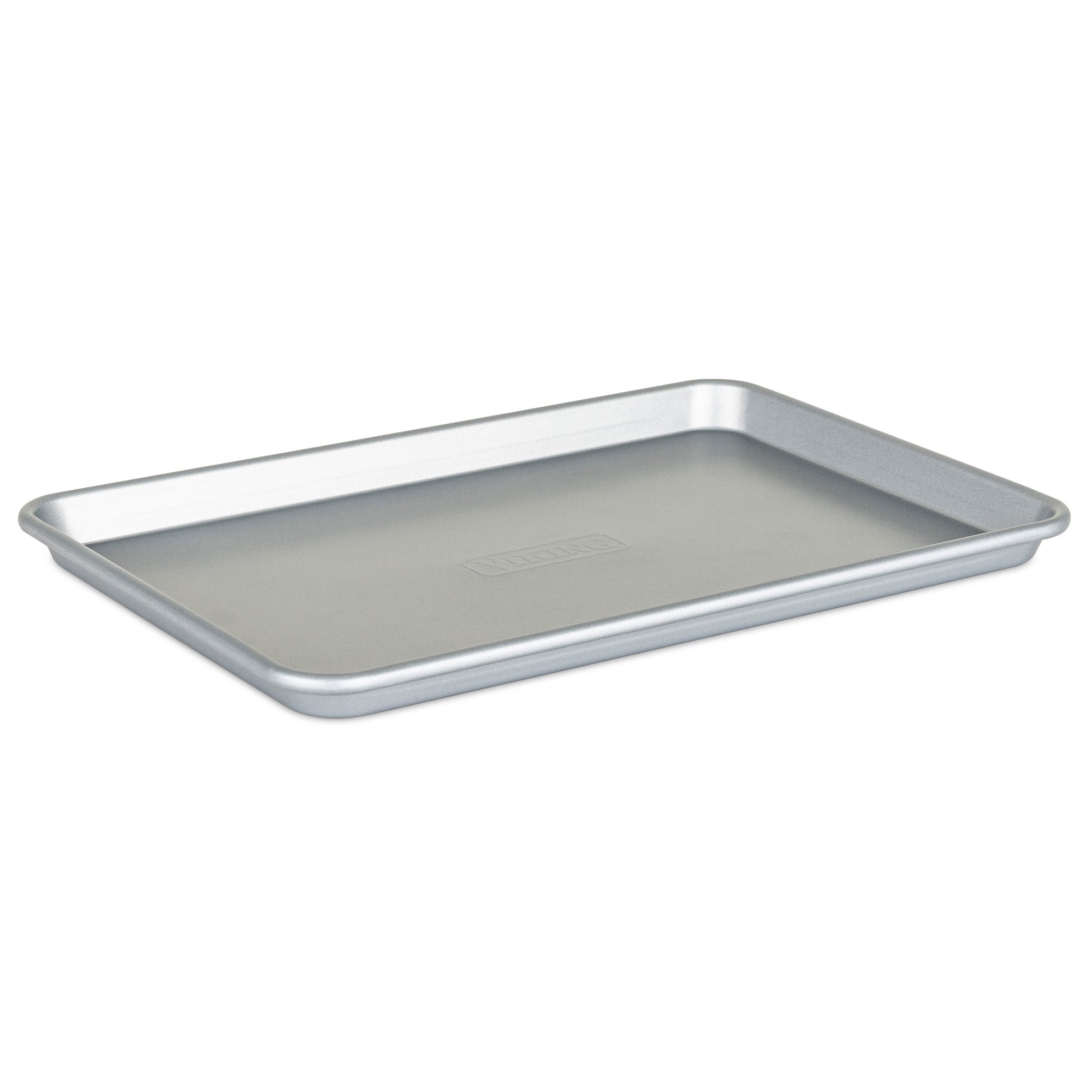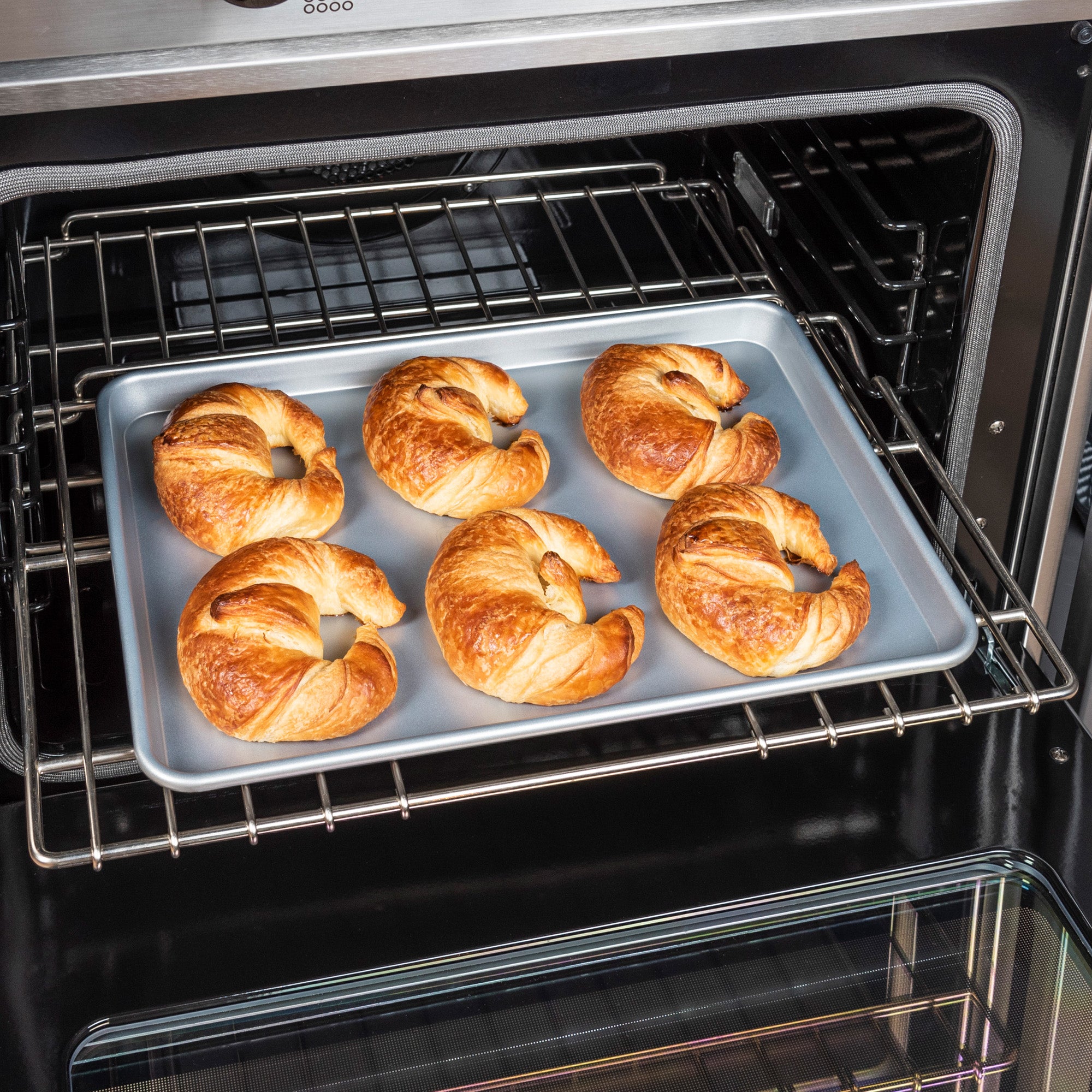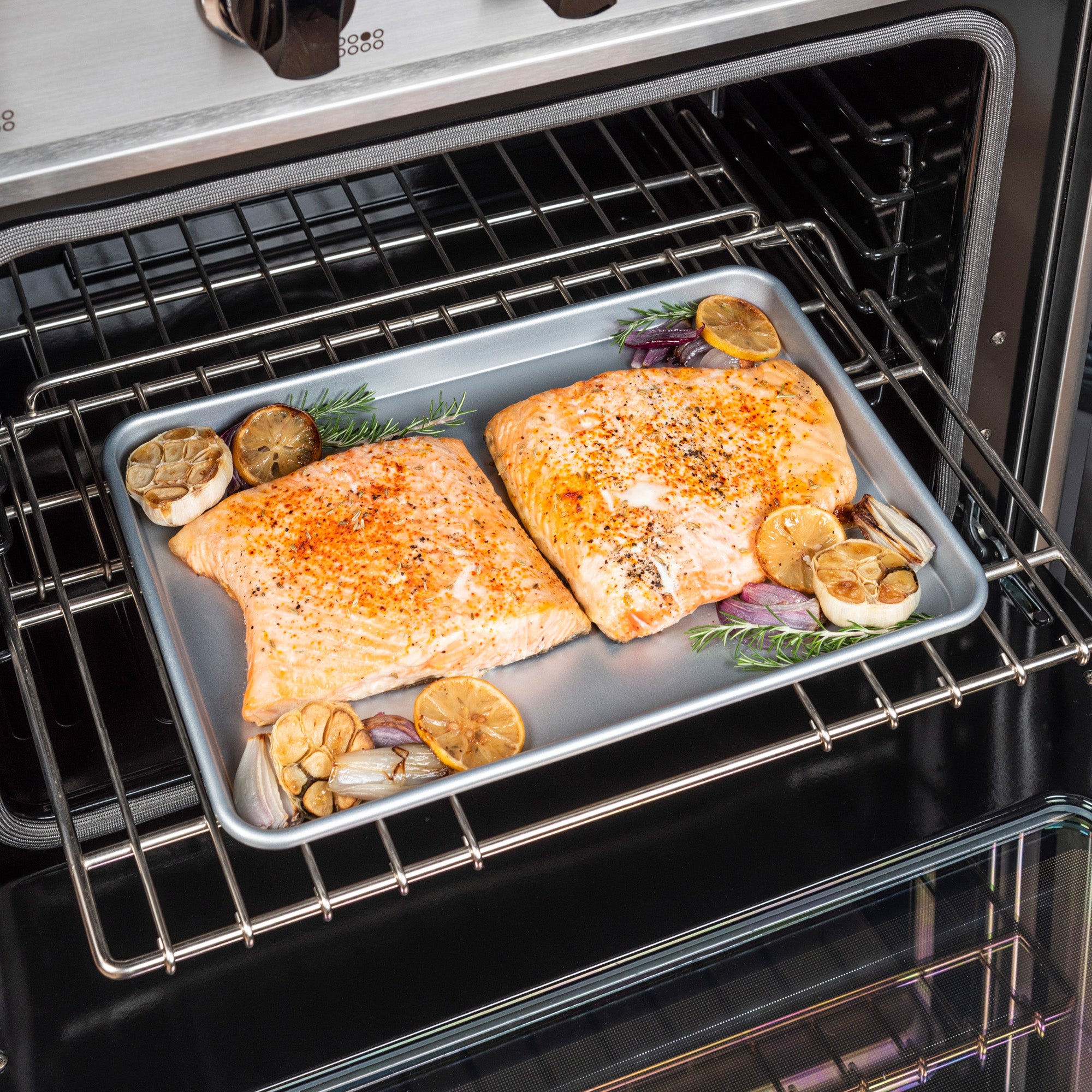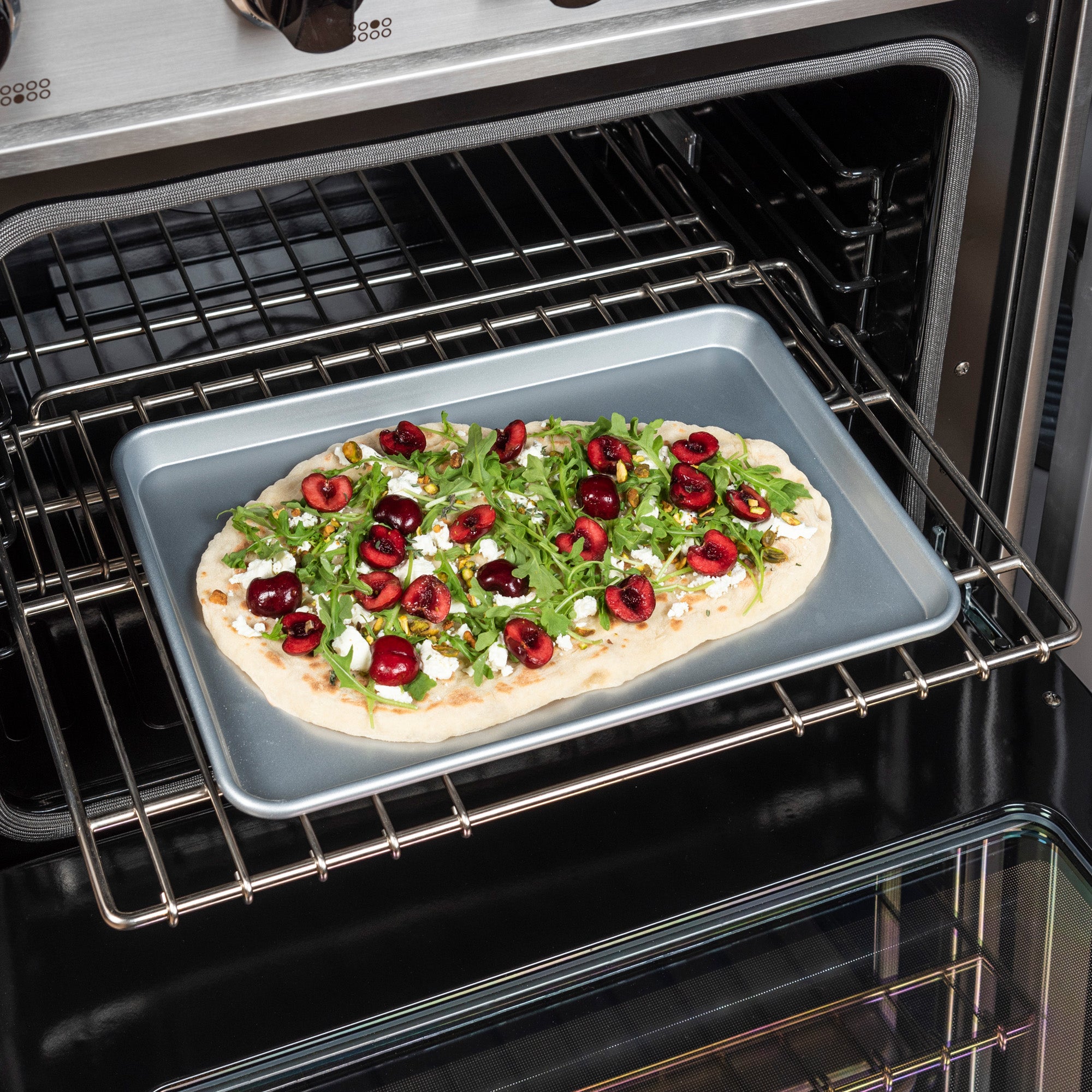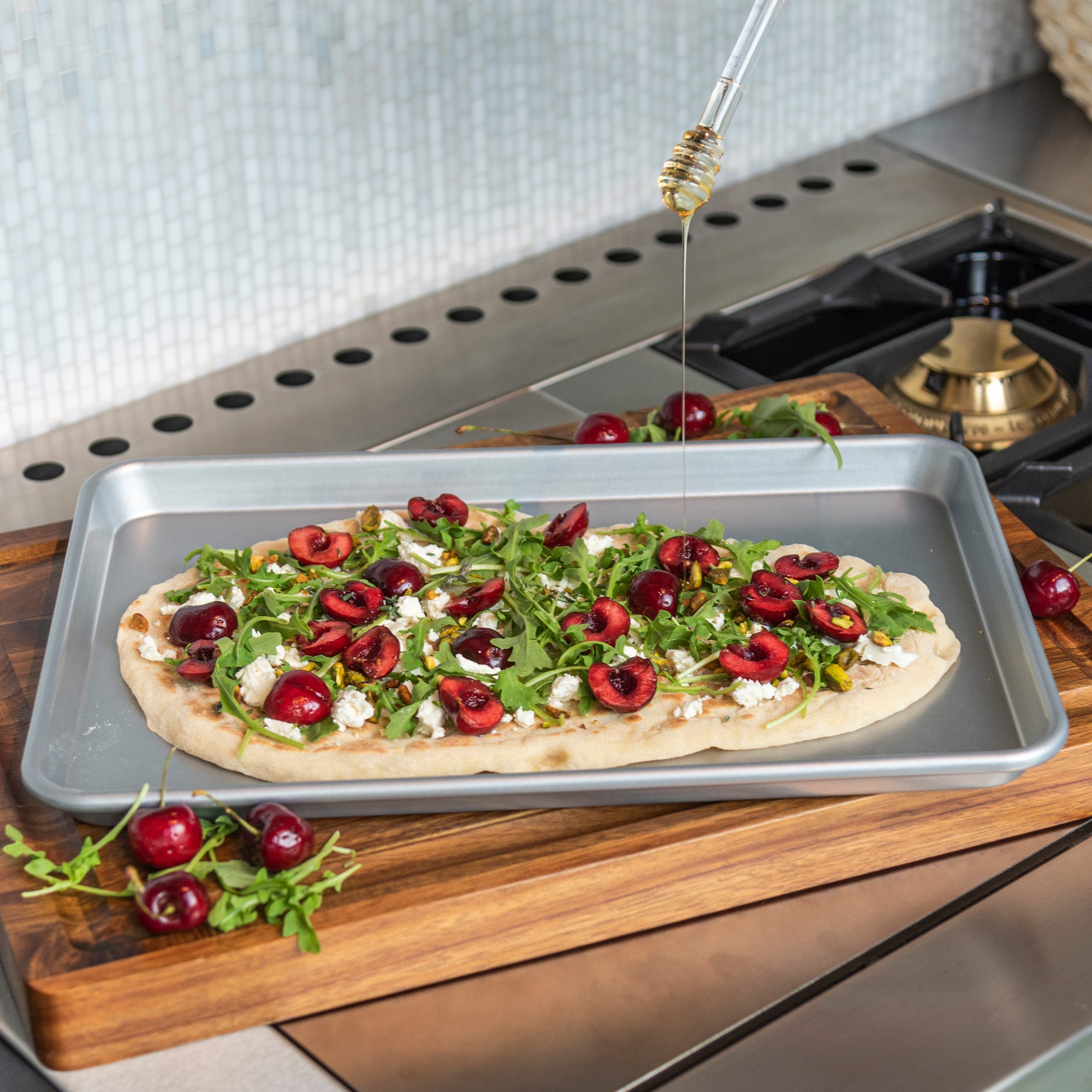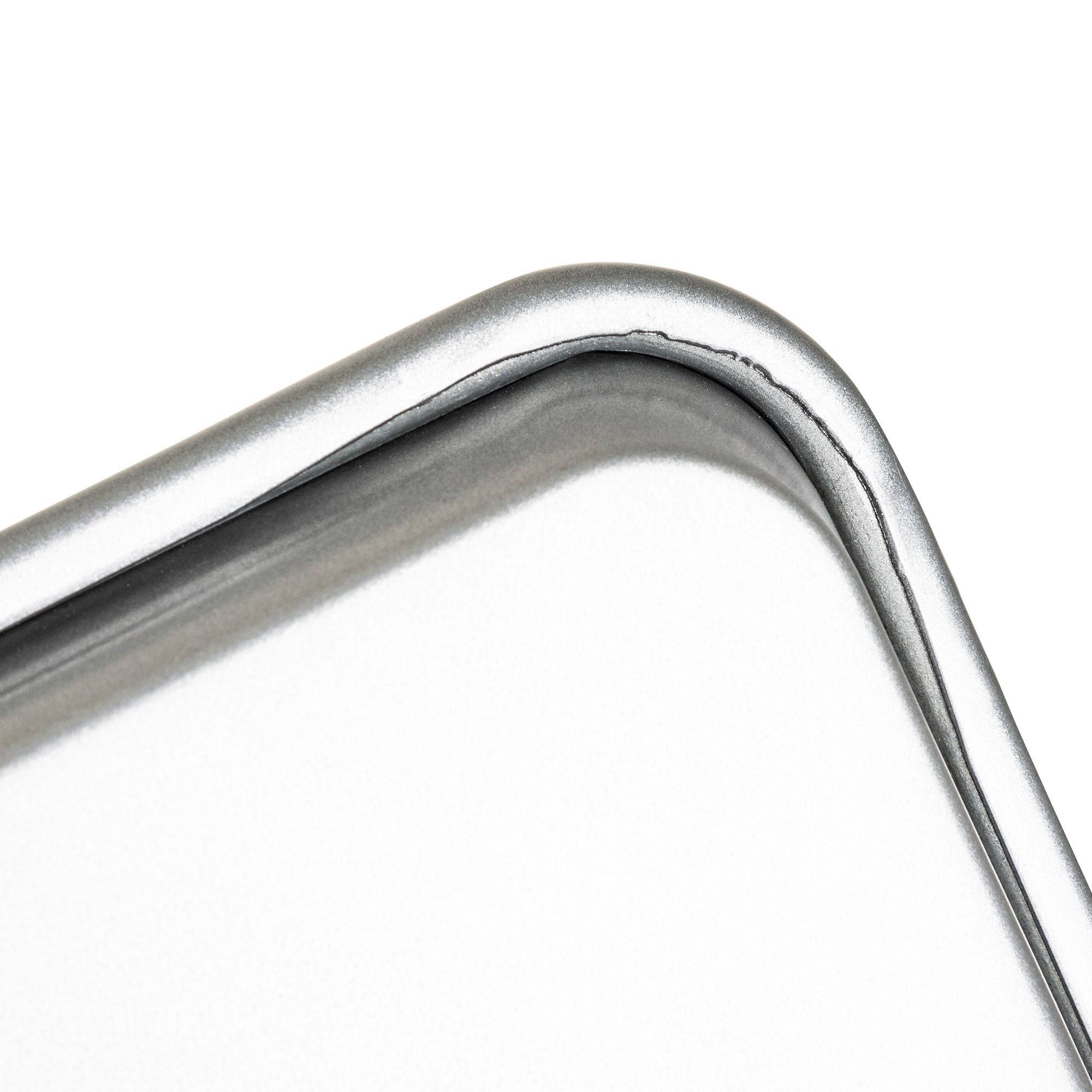 Viking 15-Inch Aluminized Nonstick Baking Sheet
Features:
Heavy duty commercial grade aluminized steel construction quickly and uniformly distributes transfers heat for consistent professional results whether you are baking, roasting, or browning. Oven safe to 475°F / 246°C 
Aluminized steel resists rusts and corrosion compared to carbon steel bakeware while baking more evenly thanks to the impressive heat conductivity of aluminum
Whether you are baking fine pastries, preparing a savory family dish, roasting a chicken or making a sheet pan dinner for the entire family, the Viking baking sheets will quickly become a workhorse in your kitchen
Double-layer, clear, silicone-based, nonstick coating on both the interior and exterior surfaces is made for superior release and easier cleanup
Reinforced encapsulated steel frame wraps each baking sheet rim to make it easy to grip when you are moving the sheet in and out of the oven, while at the same time, reducing warping during cooking and use
In addition to being nonstick the Viking baking sheets are compatible with tin foil, baker's parchment paper, and silicone baking mats
Dishwasher safe, but handwashing is recommended to extend the life of the nonstick coating
Limited lifetime warranty
Bake, roast and fry to perfection with Viking Nonstick Baking Sheet. These heavy gauge baking sheets are made of commercial-grade aluminized steel to heat quickly and evenly while the double-layer nonstick coating ensures easy release and quick cleanup. This unique construction provides the strength and durability of baking with steel with the added conductivity of aluminum for exceptional heat distribution. Each sheet is reinforced with a solid steel frame around the entire outer edge of the pan. The steel frame gives each baking sheet stability, making it easy to take in and out of the oven while preventing warping. The aluminized steel construction distributes the heat evenly throughout the entire pan for more even cooking. The heavy gauge (0.8 mm), also improves and maximizes the heat distribution compared to lower weight baking sheets, making sure every cookie comes out exactly as you want it to. The high walls of the baking sheep wrap around the steel frame and are designed to help keep juices and liquids in place when roasting. The silicone based, double-layer nonstick coating is applied to both the interior and exterior of each sheet for easier cleanup as it prevents food from sticking to your pan. The Viking cookie and baking sheets are dishwasher safe, but we always recommend hand washing whenever possible to extend the life and performance of the nonstick coating. You can also extend the life of the nonstick coating and prevent chips or scratches by using wood, nylon, or silicone utensils. Metal utensils and abrasive scouring pads may scratch the surface but will not affect baking performance. The baking sheets are oven safe to 475°F (246°C) and are perfect for baking cookies and pastries, pizzas, roasting proteins, veggies, frying eggs or fries, and so much more. Whether you are baking cookies or roasting a chicken, these baking sheets will give you the same tools in your home that professional chef's use every day.