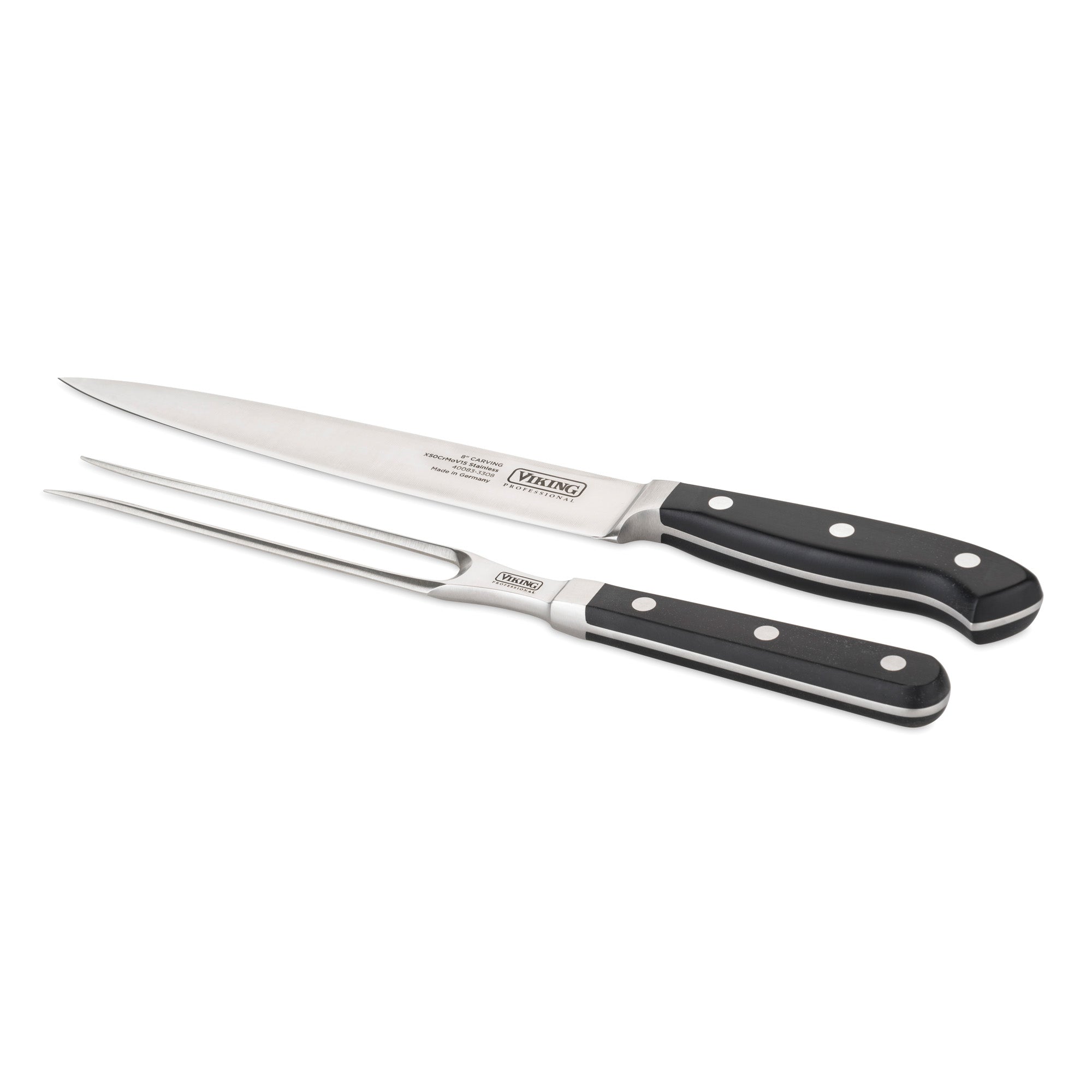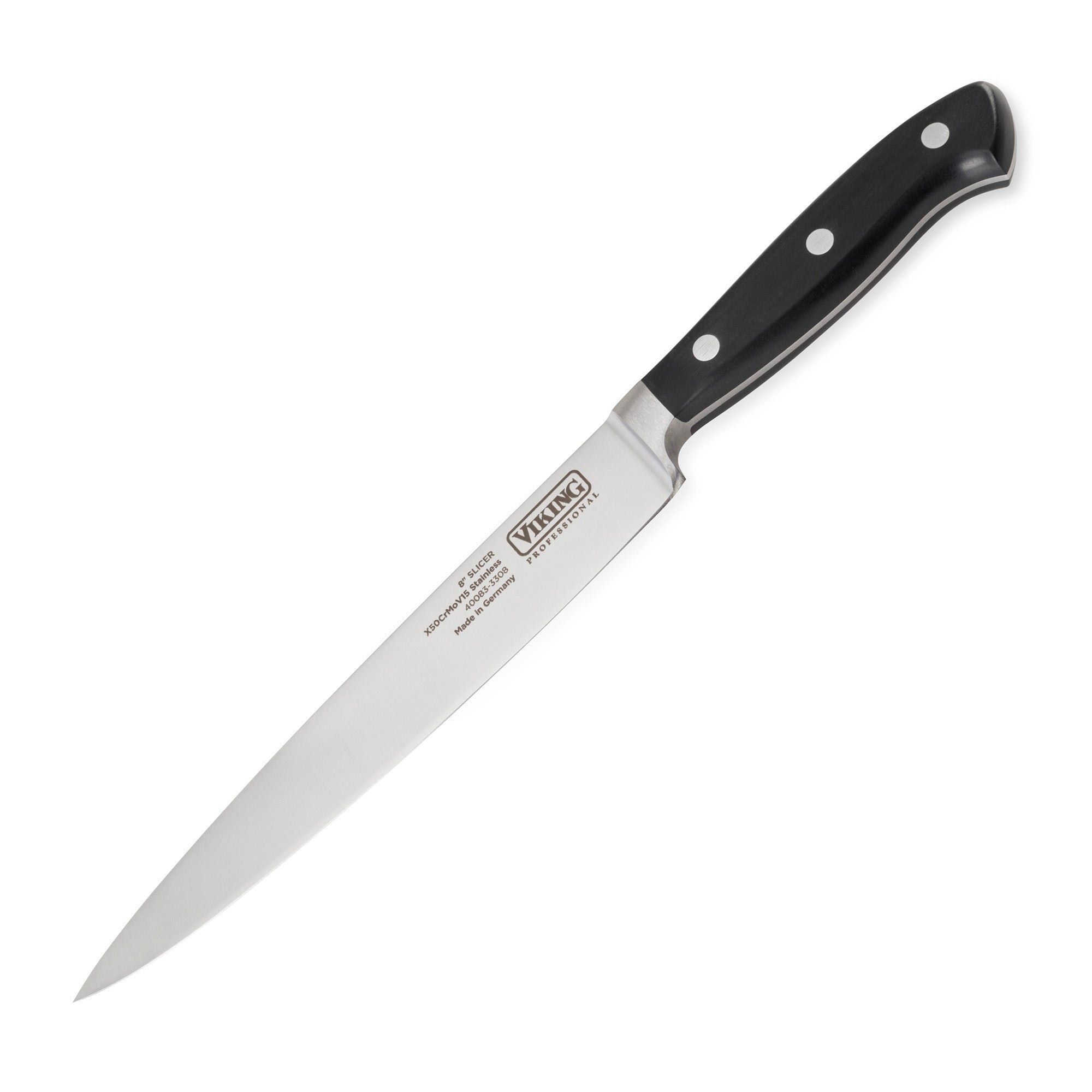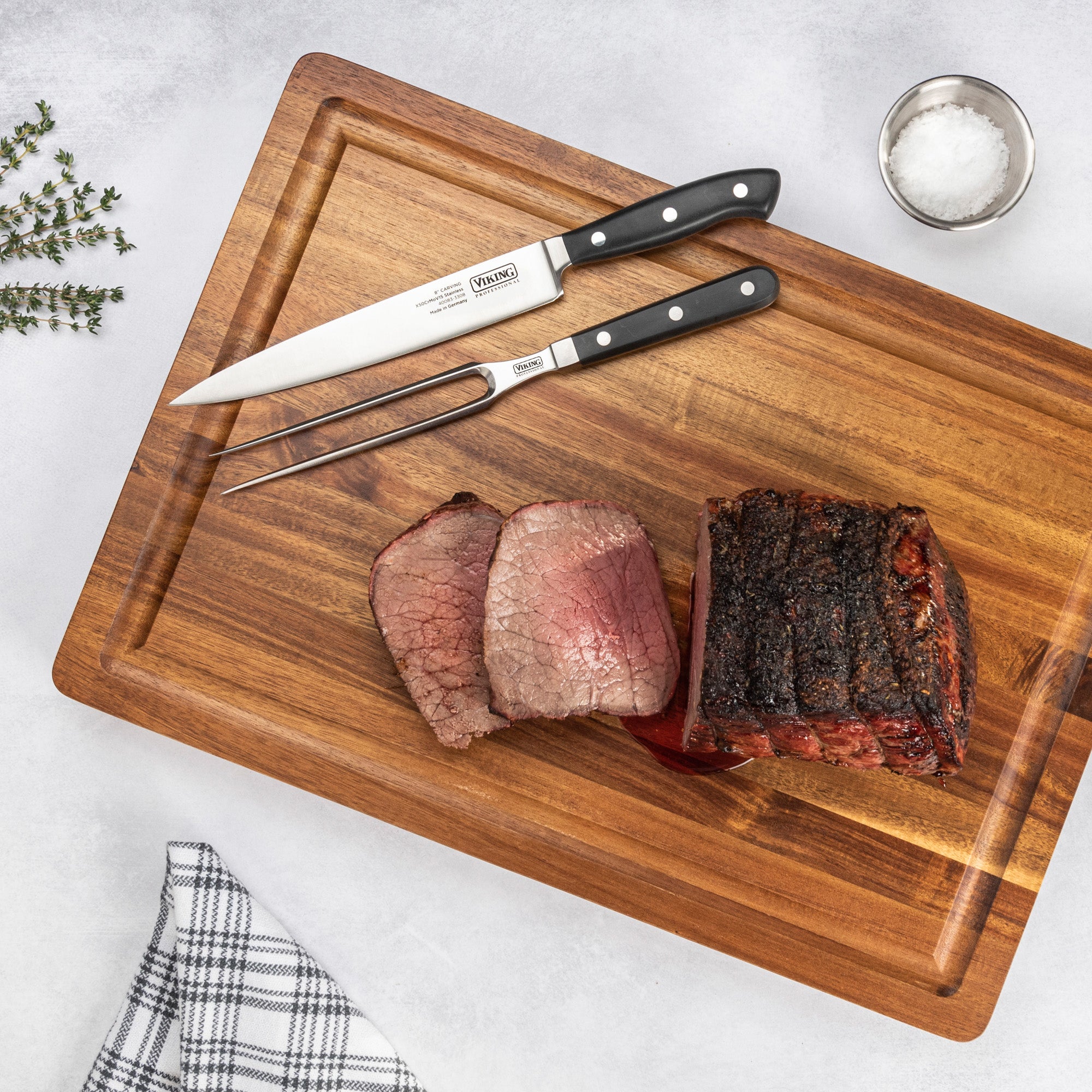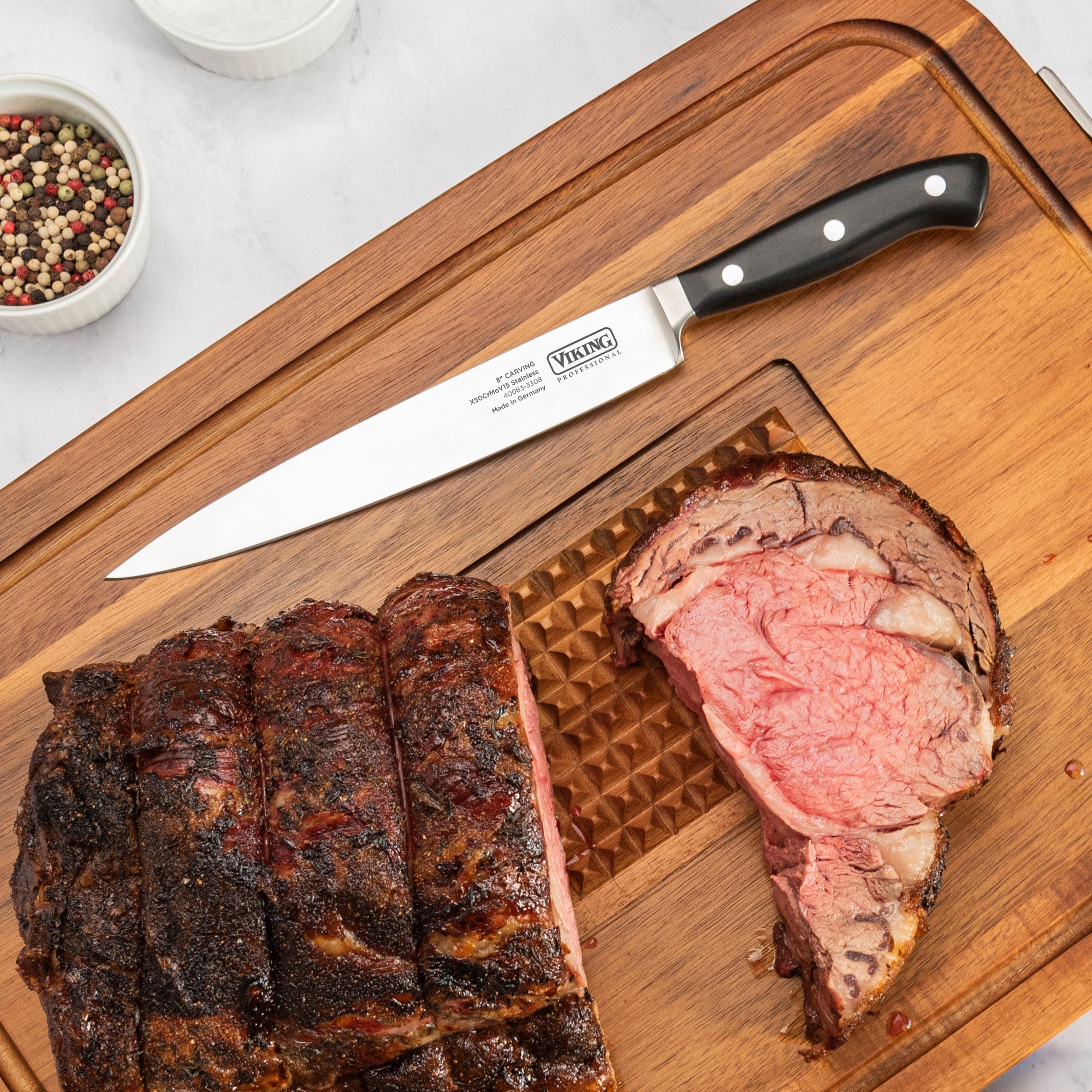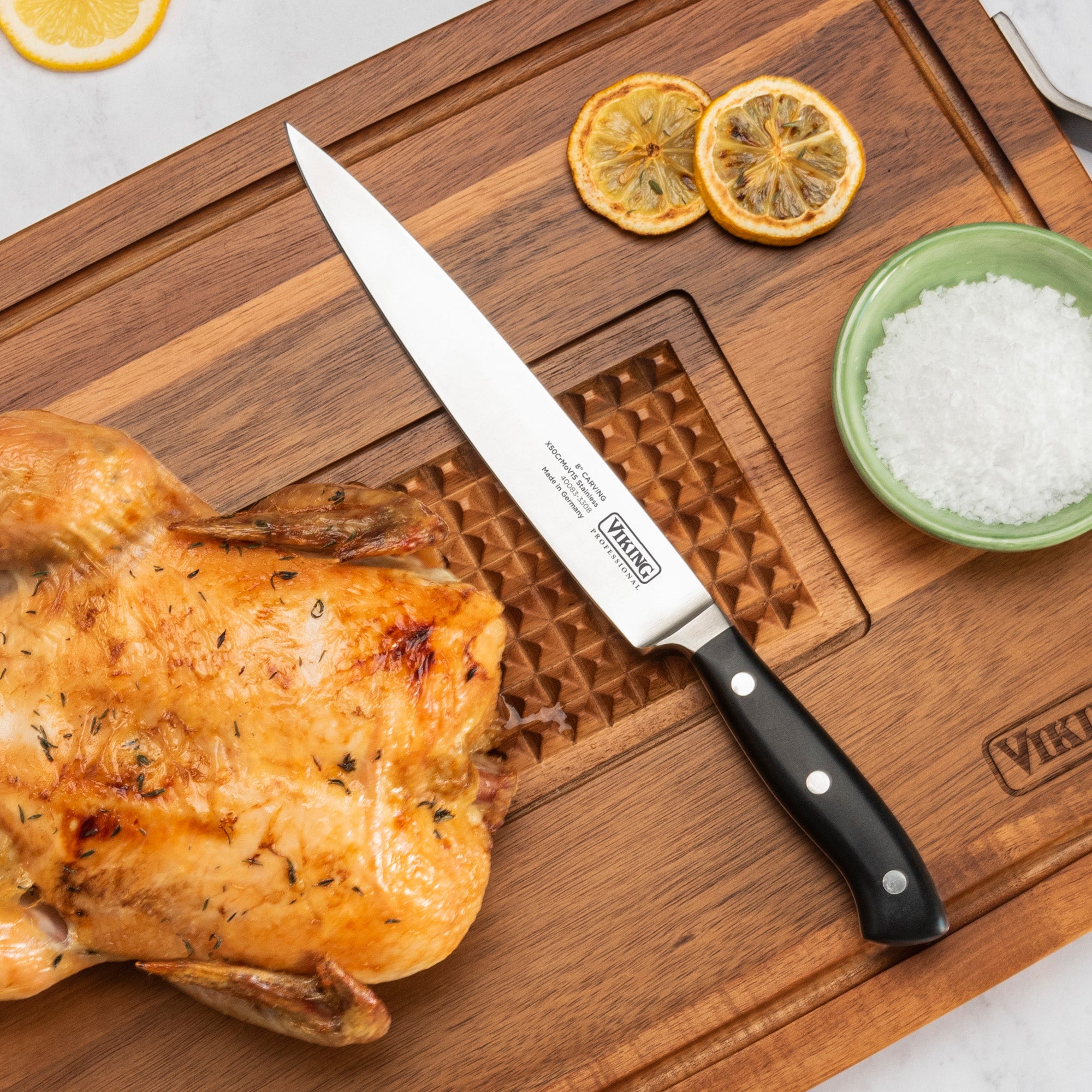 Viking Professional 2-Piece Carving Set
Features:
Includes Carving Knife and Forged Fork
Features X50CrMOV15 German Steel with a HRC 55-60 degree for sharpness, edge retention, durability and resistance to corrosion
Full-tang design
Dishwasher Safe, Handwash Recommended
Limited Lifetime Warranty
Designed and manufactured in Germany, Viking Professional Cutlery delivers uncompromising performance due to the exceptional balance between the blade and handle. These fully forged knives are constructed with an integrated tang and riveted POM handle. Forged from high-alloy steel to ensure sharpness, deliver edge retention and resist corrosion, Viking Professional Cutlery features durable X50CrMoV15 German Stainless Steel with a Rockwell hardness rating of 55-56 degrees. Designed for both home and professional use, our cutlery was created with the demands of a professional Chef in mind. The ergonomically designed handles were developed with a focus on comfort and ease of use featuring exceptional balance so that they are as ergonomic as possible. With little to no weight on the upward lift, Viking Professional Cutlery is designed to be an extension of the hand and eliminate fatigue. The blades feature a 15-degree cutting edge that is heat hardened under inert gas to ensure strength and long life. The combination of the cutting edge angle and the Rockwell hardness of the steel create the perfect balance between edge retention and the ability to sharpen the blade. Viking Professional Cutlery is completely hygienic with no gaps between the blade and handle. The bolster and integrated tang deliver stability and balance while protecting the users hand from the blade. The Viking Professional 2-Piece Cutlery Set includes a 7-Inch Forged Meat Fork perfect for carving and serving roasts, turkey and more. The Viking Professional Cutlery line is backed by a lifetime warranty. For best results, hone your blade with the Viking Steel before each use. While the Viking knifes are dishwasher safe, hand washing is highly recommended to extend the polish and longevity of your cutlery.