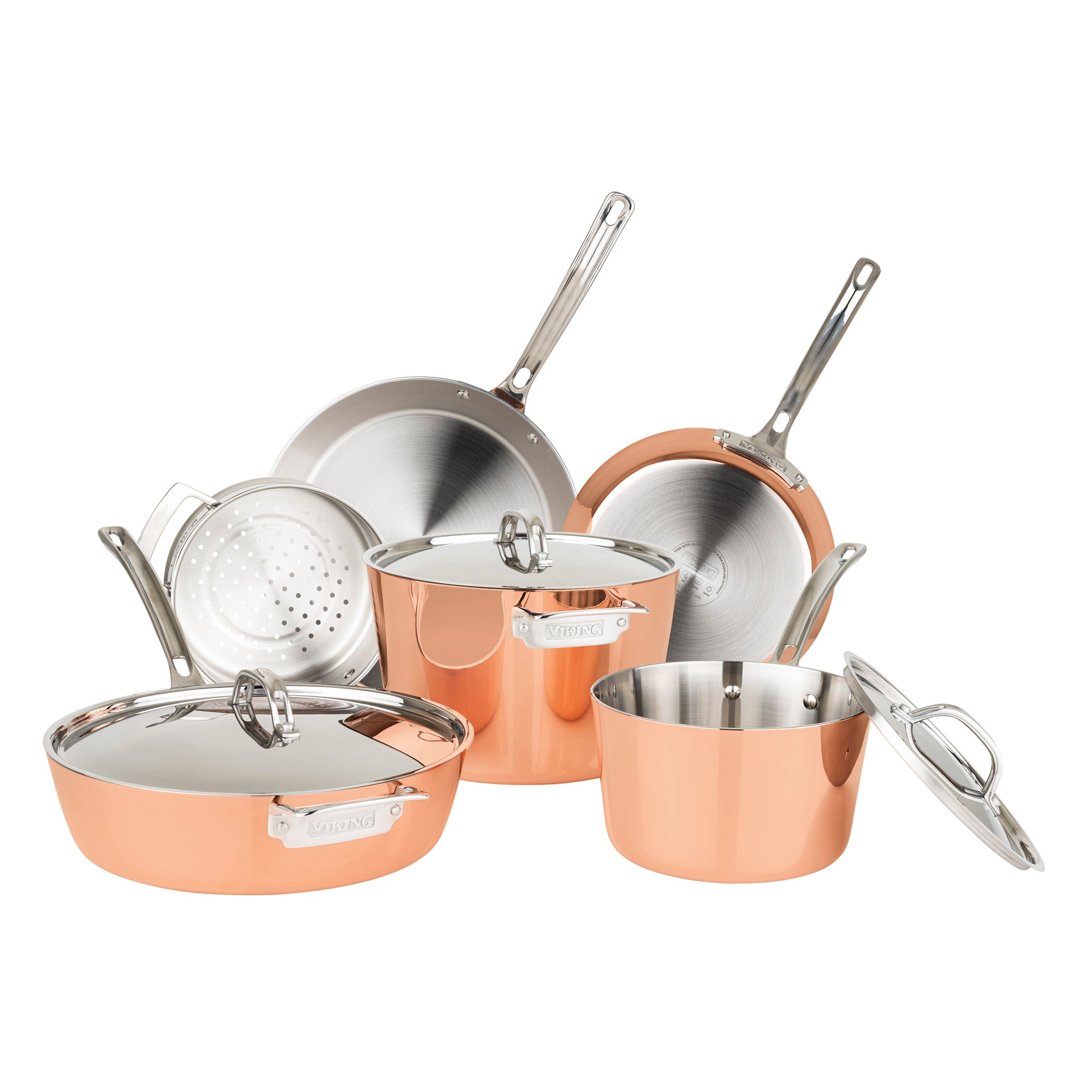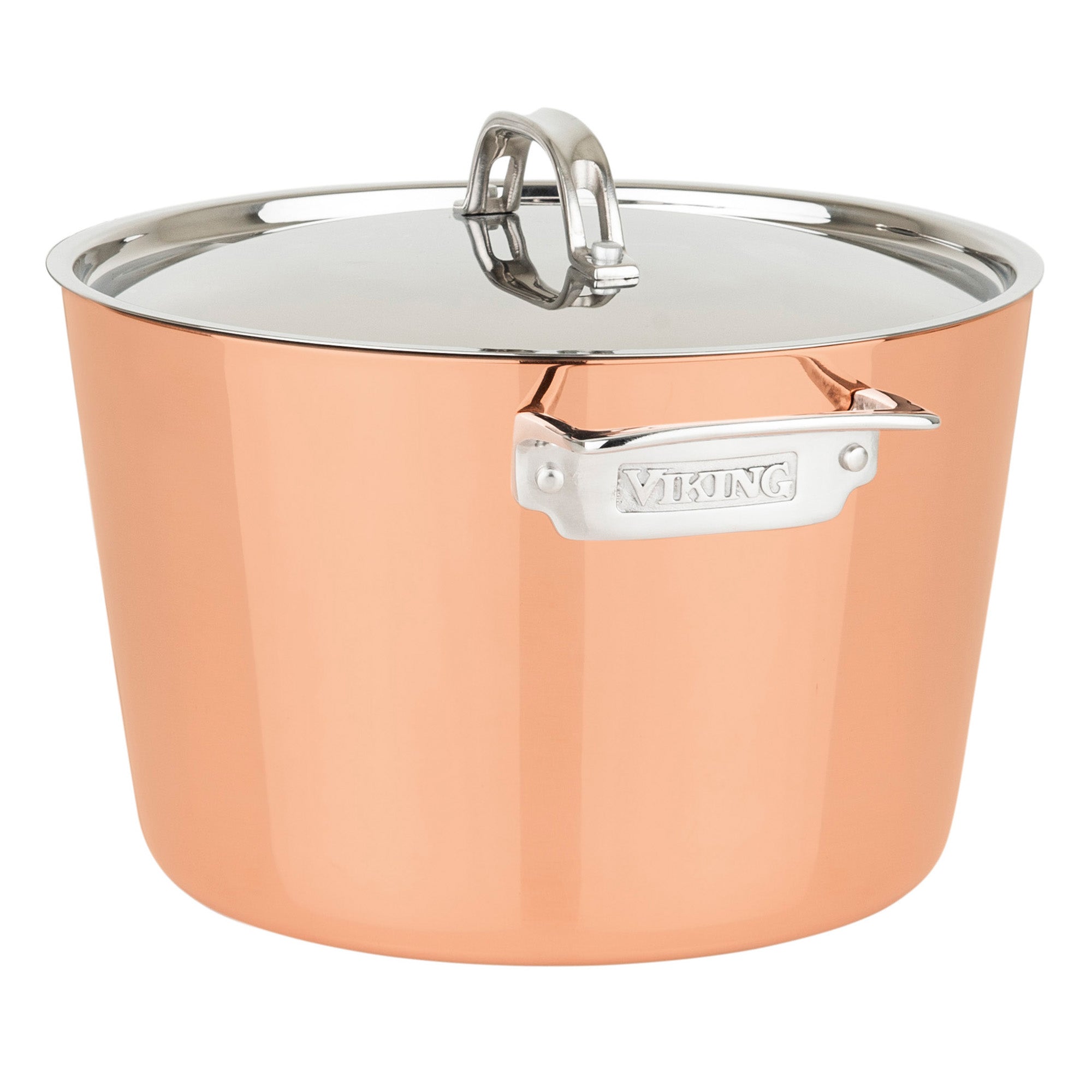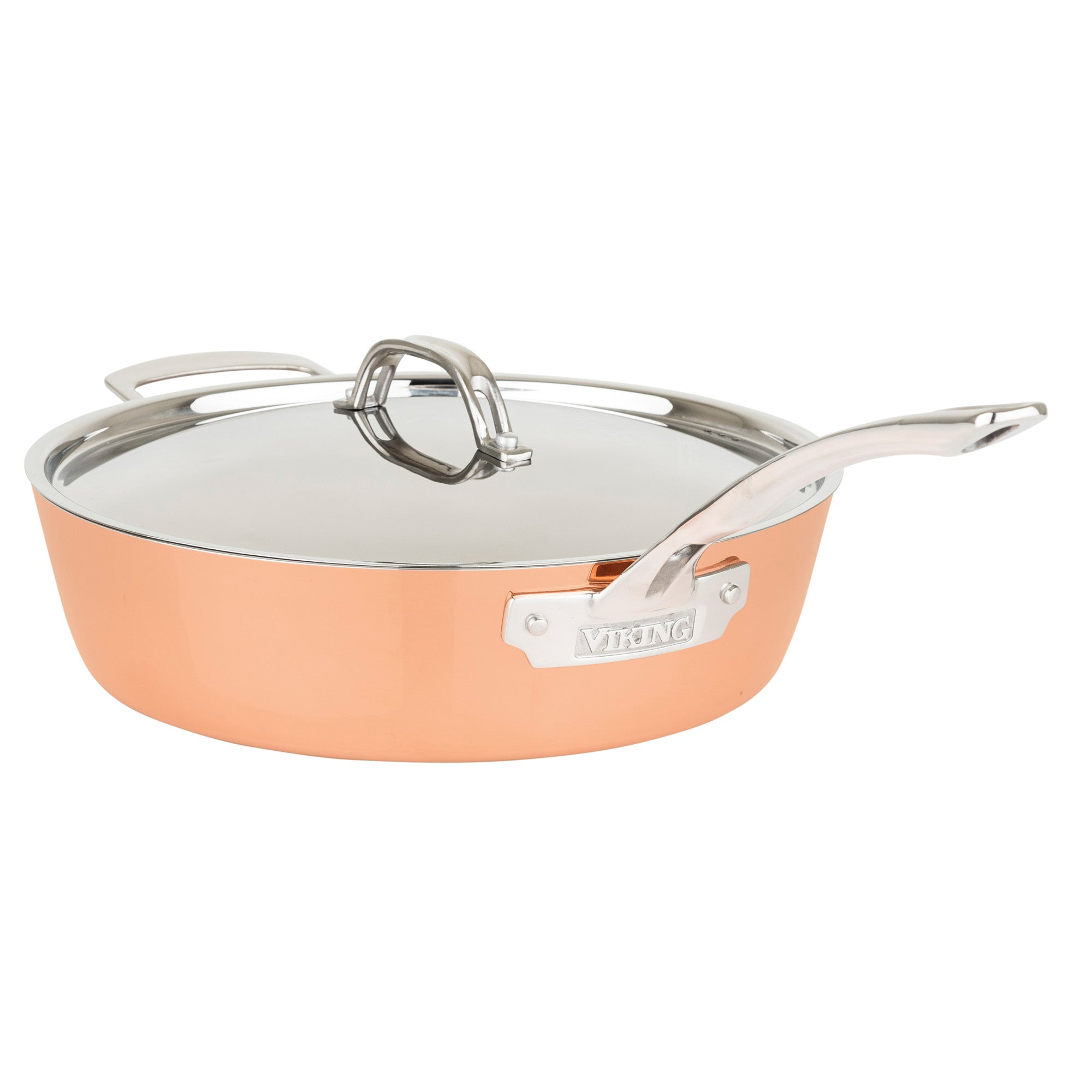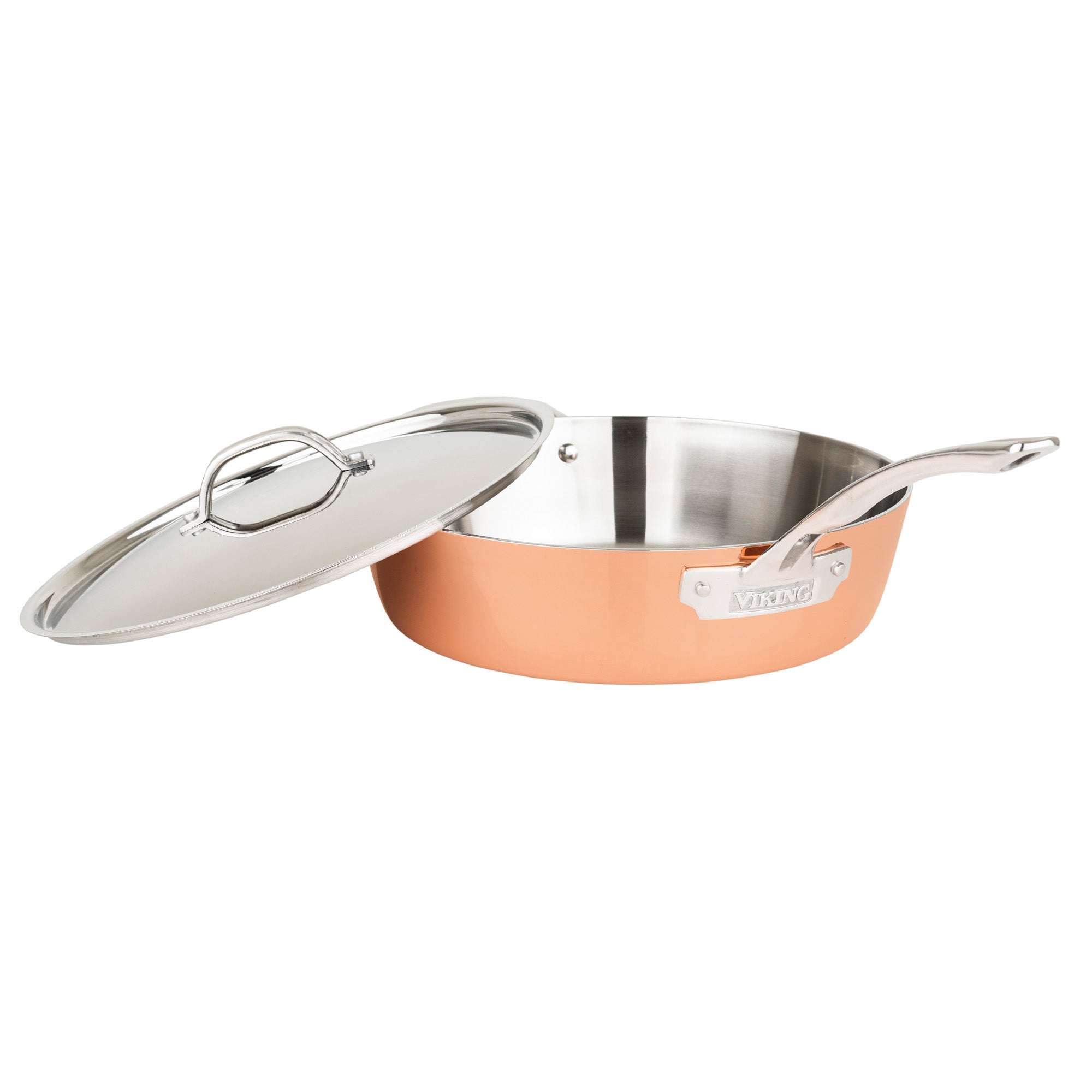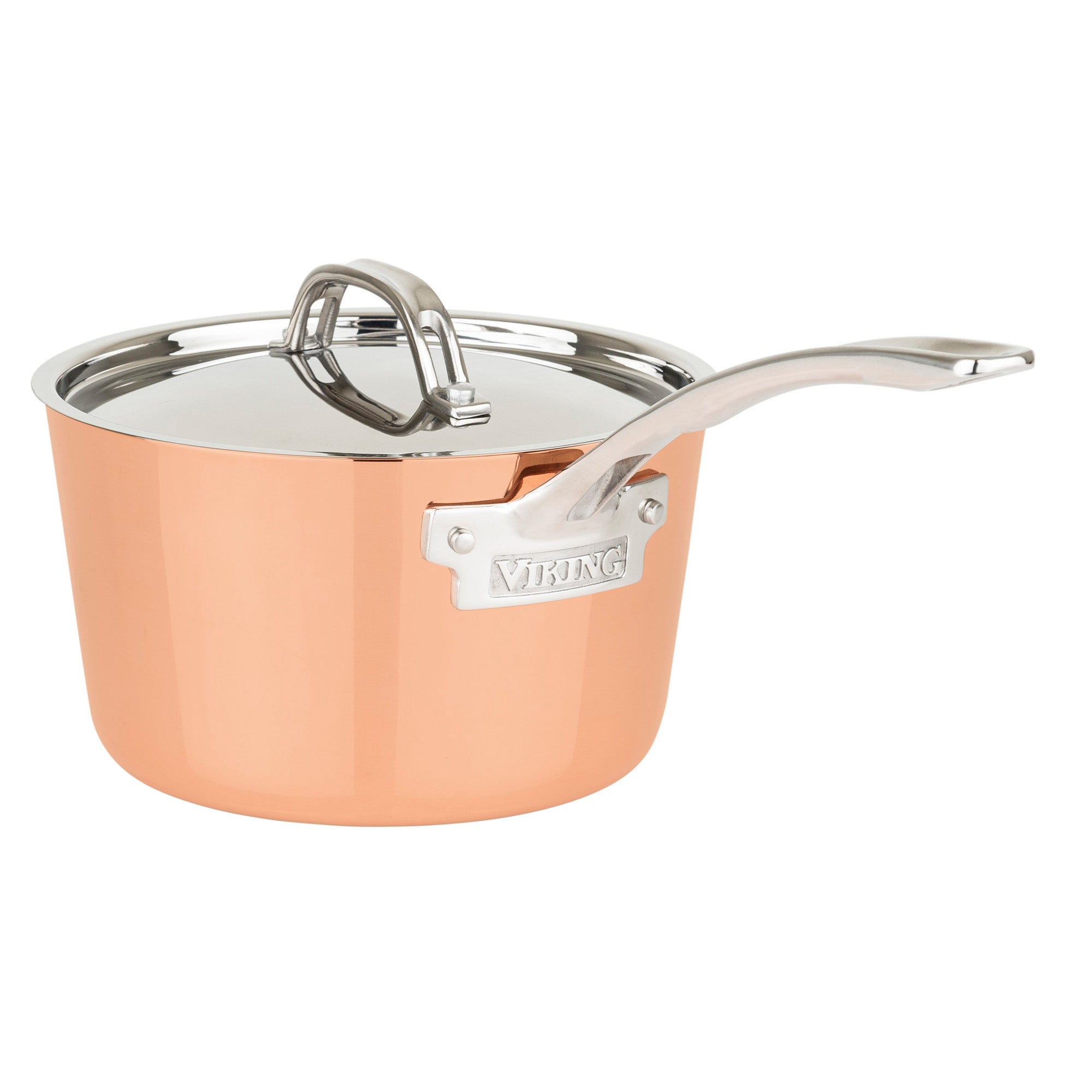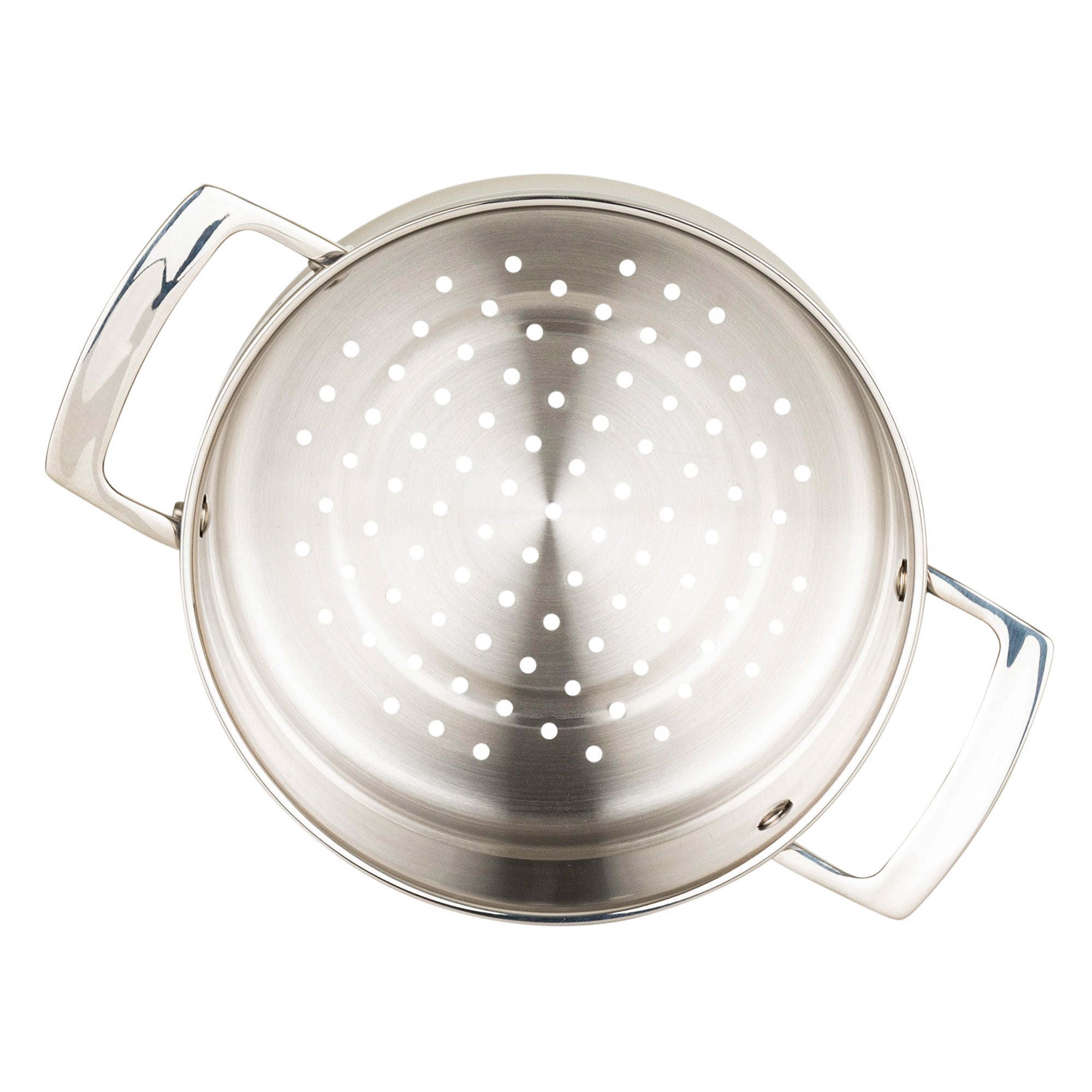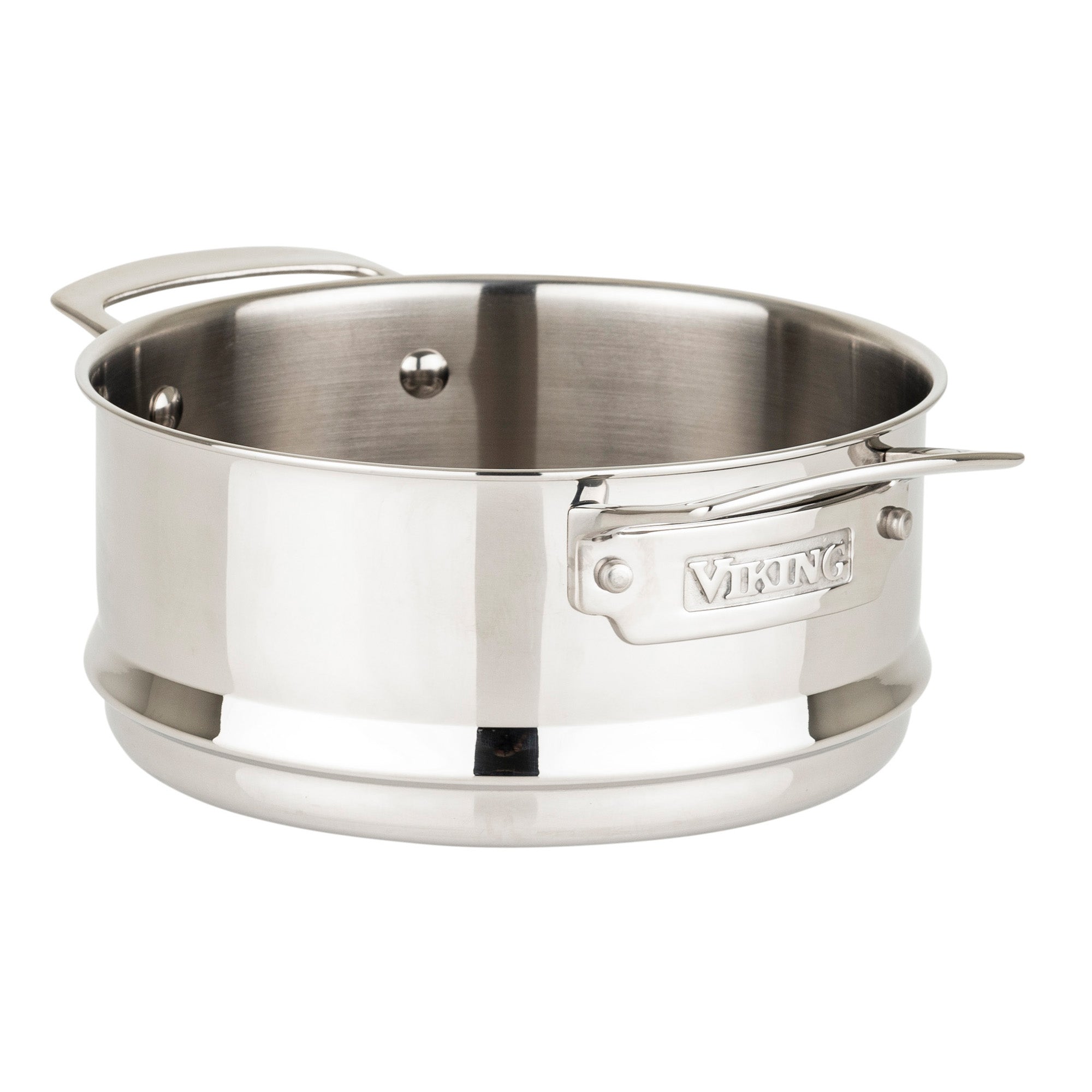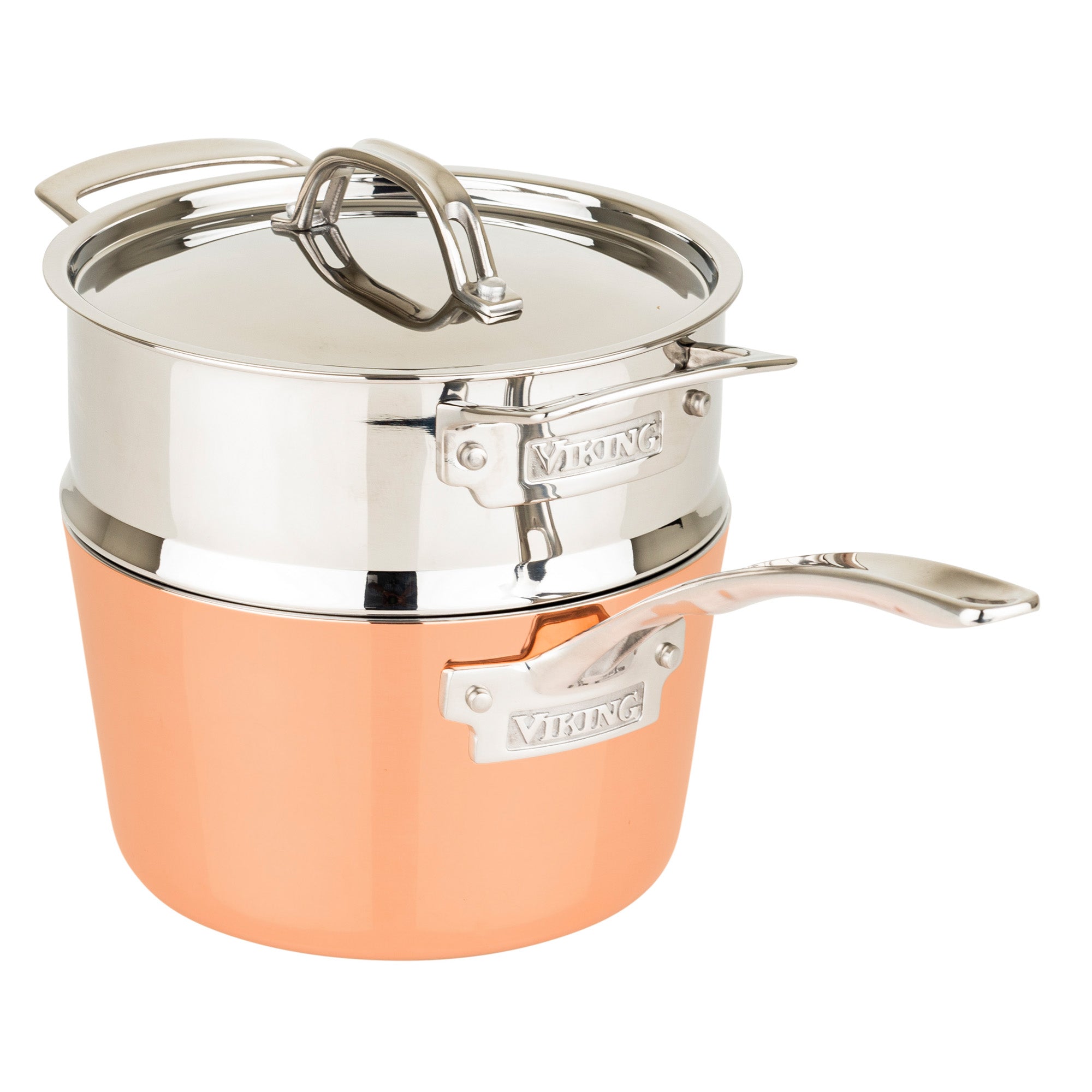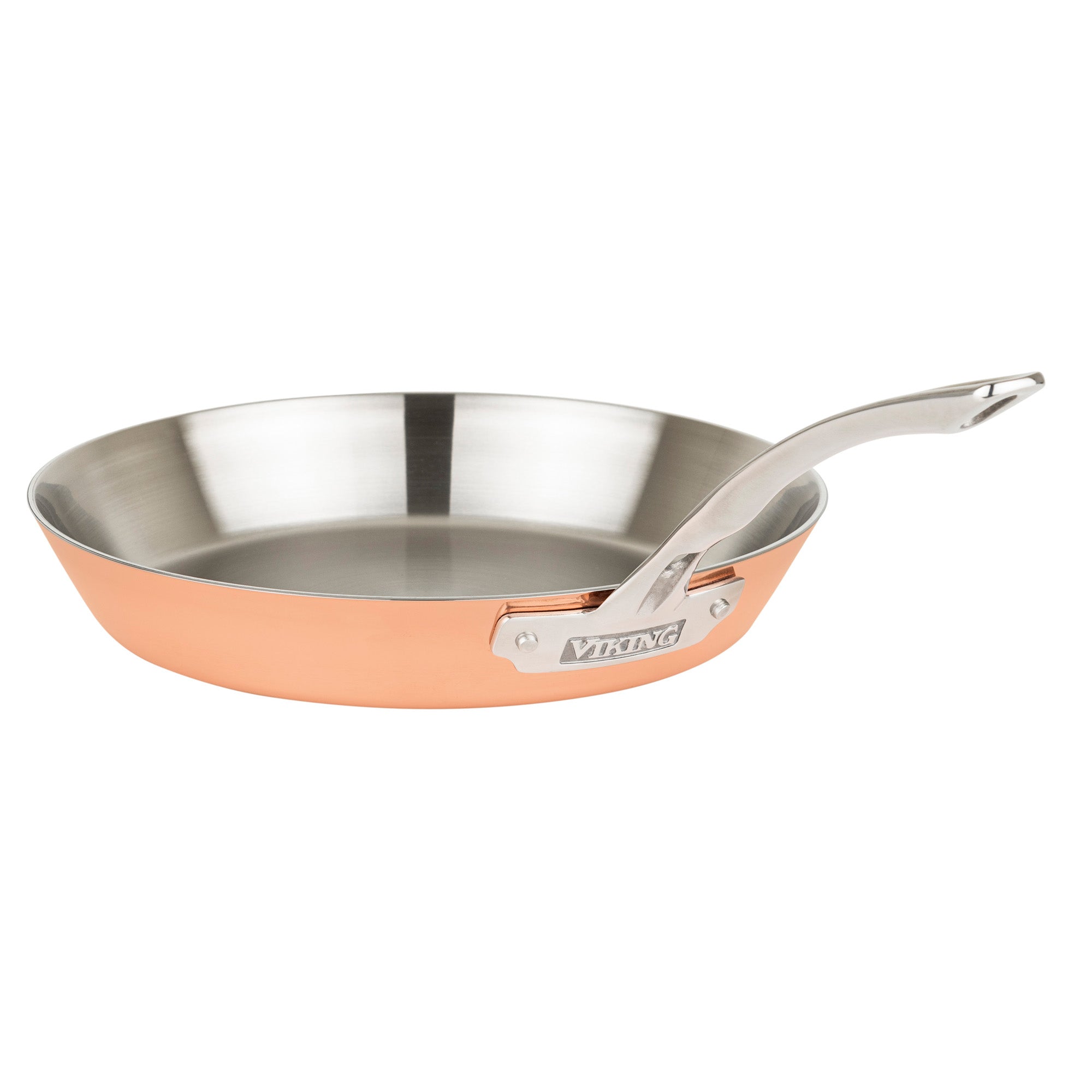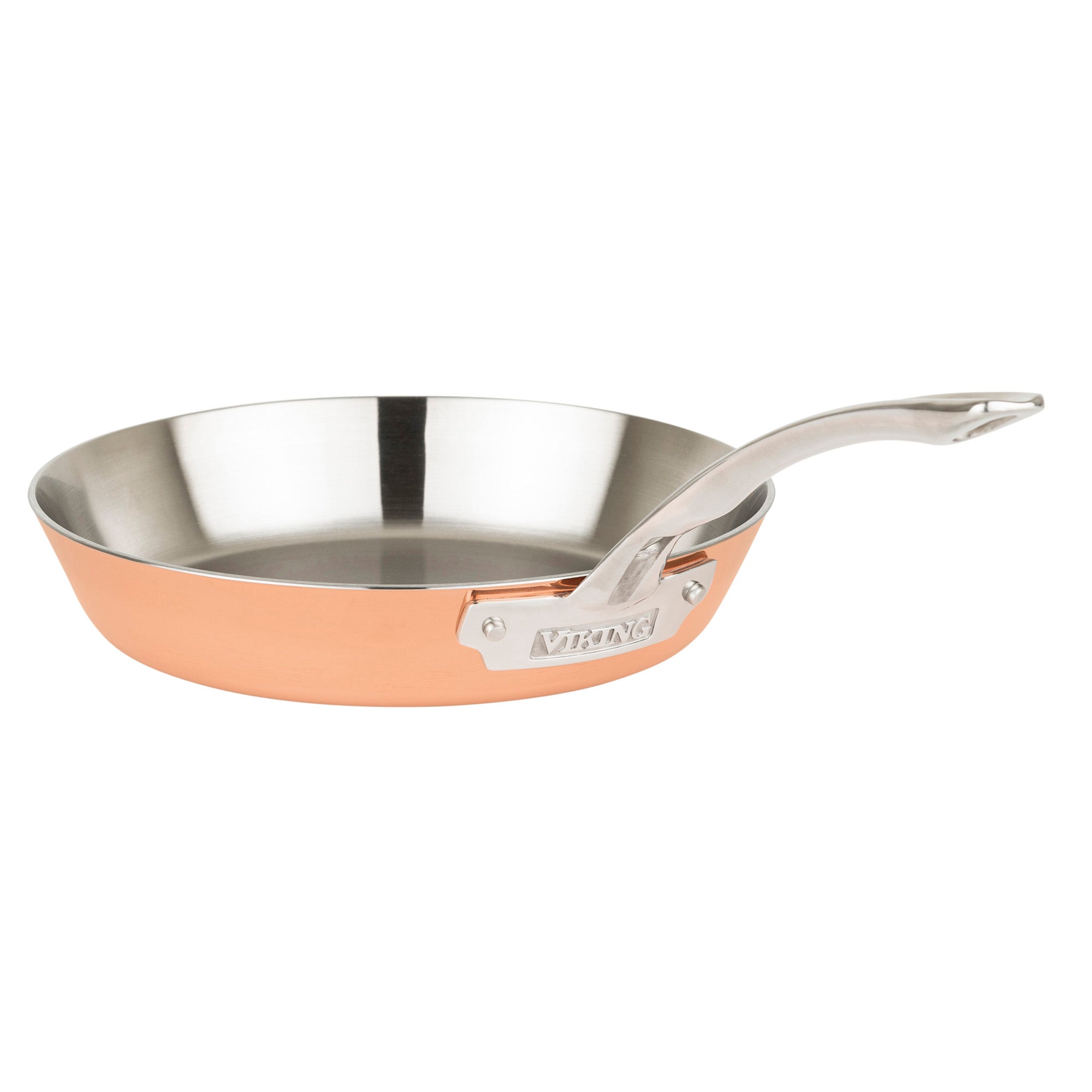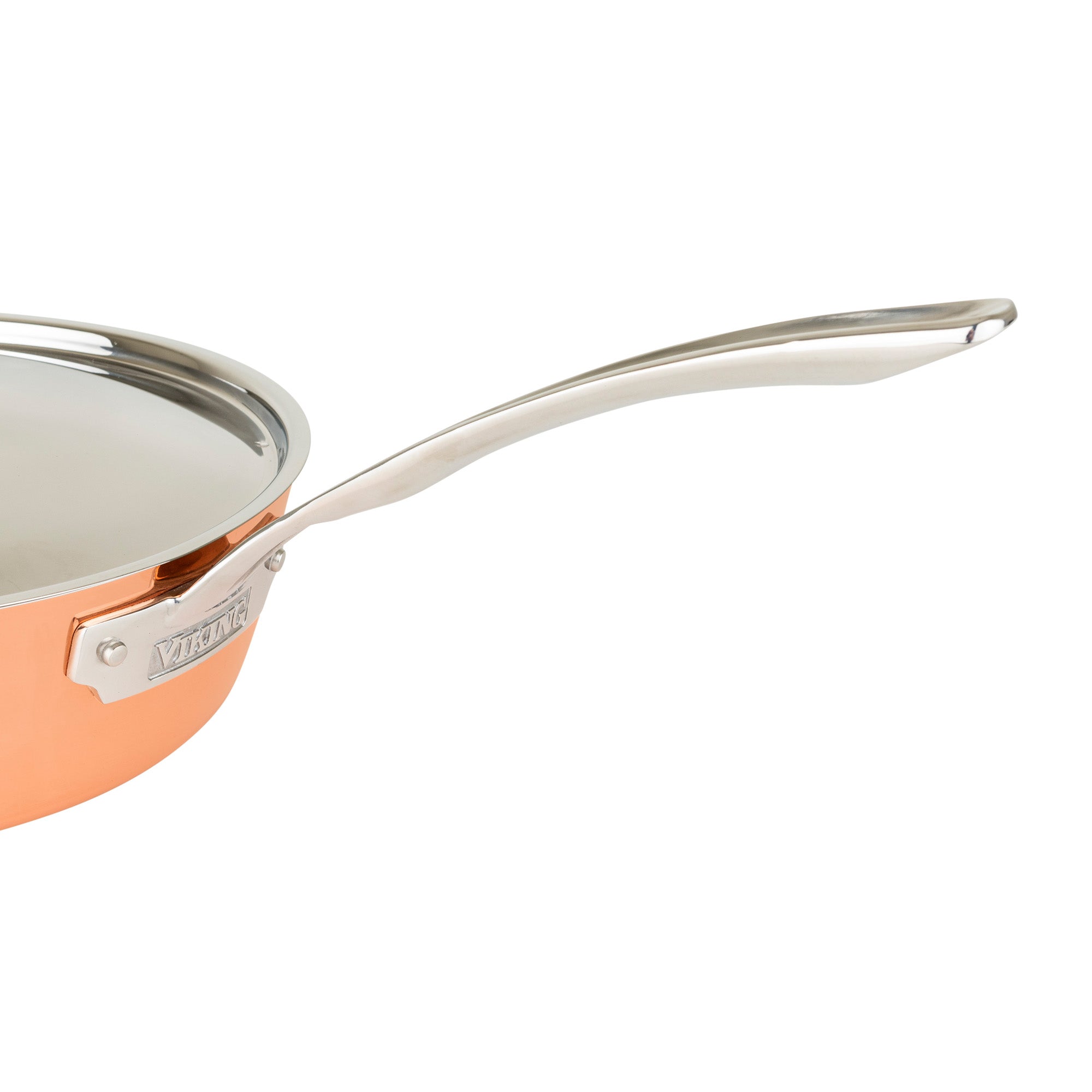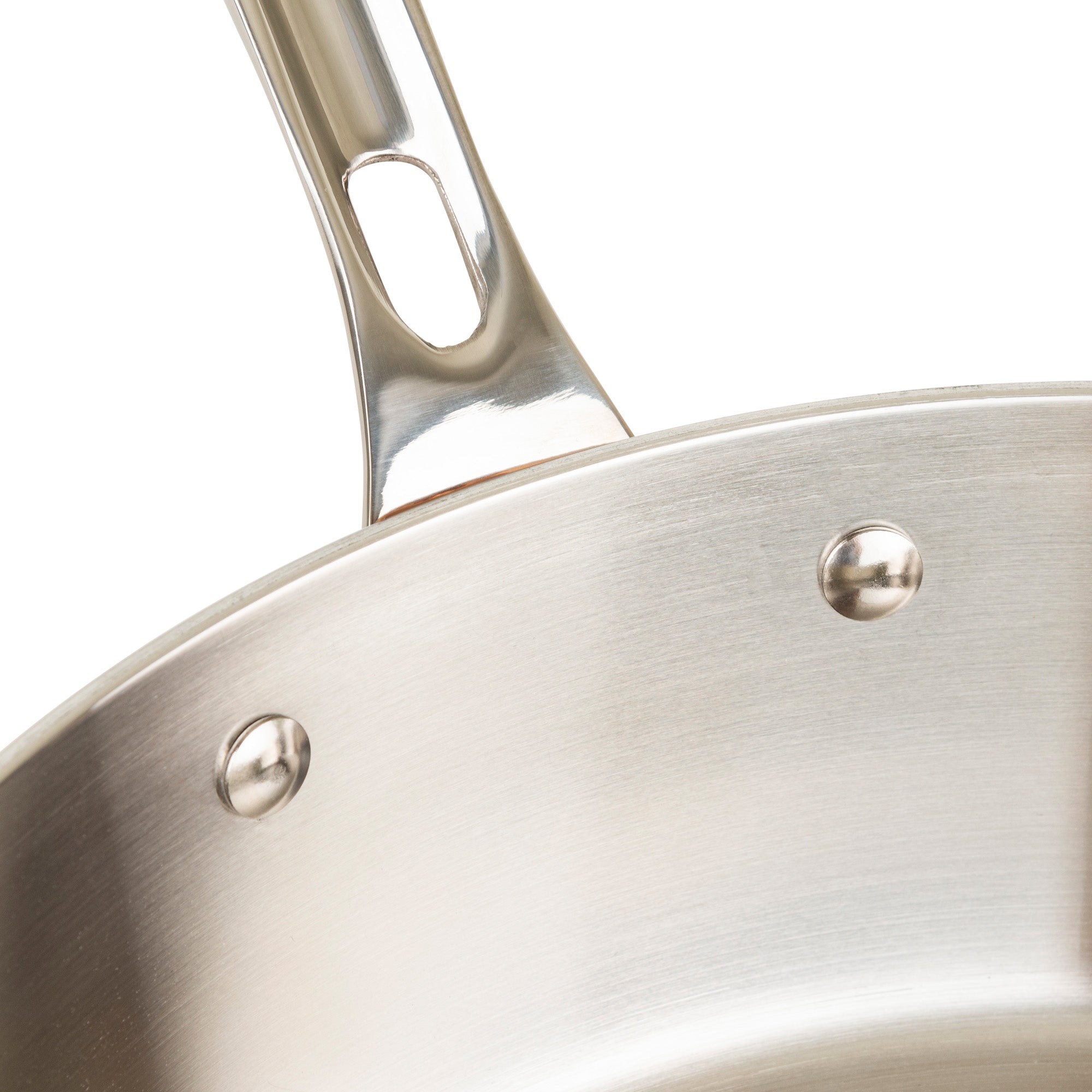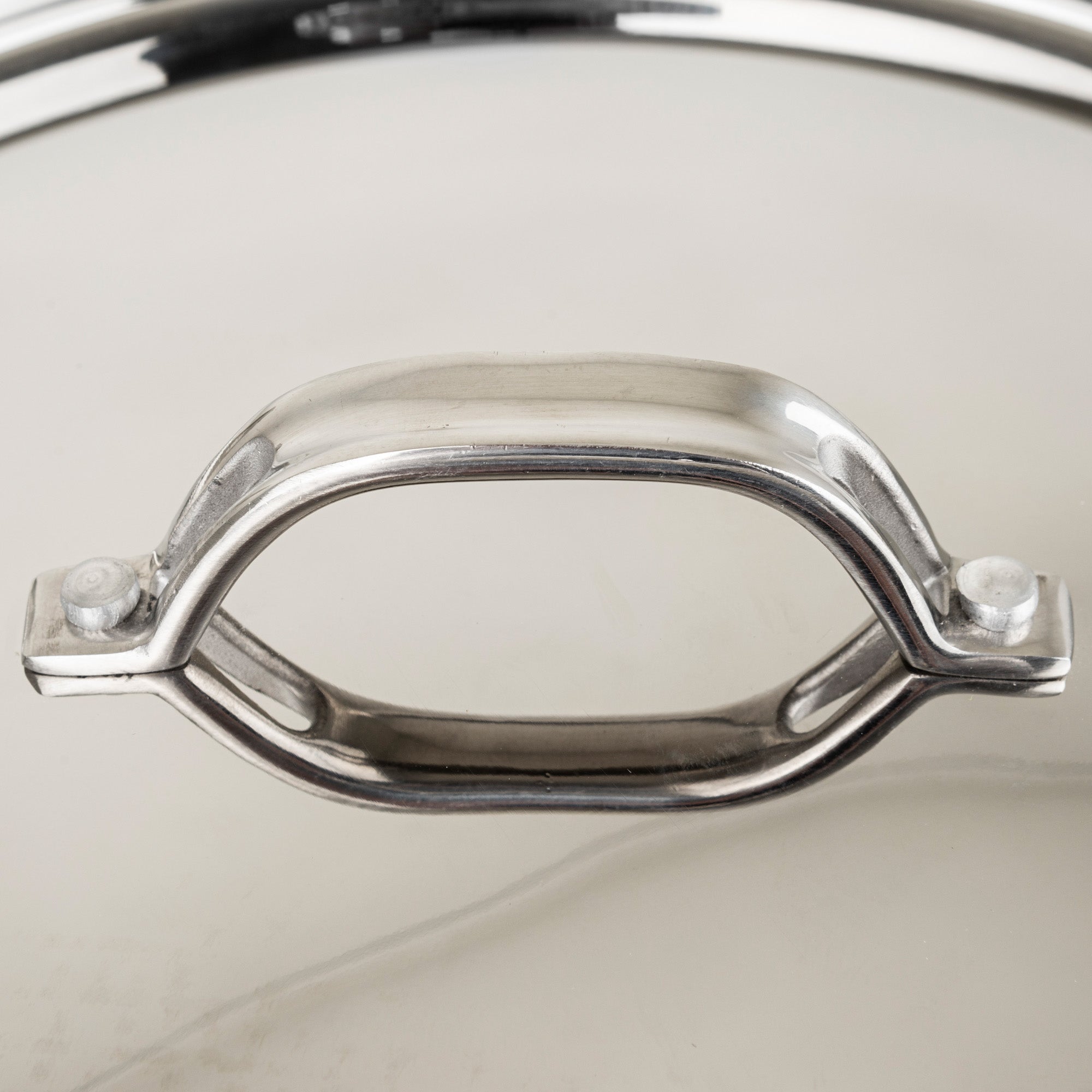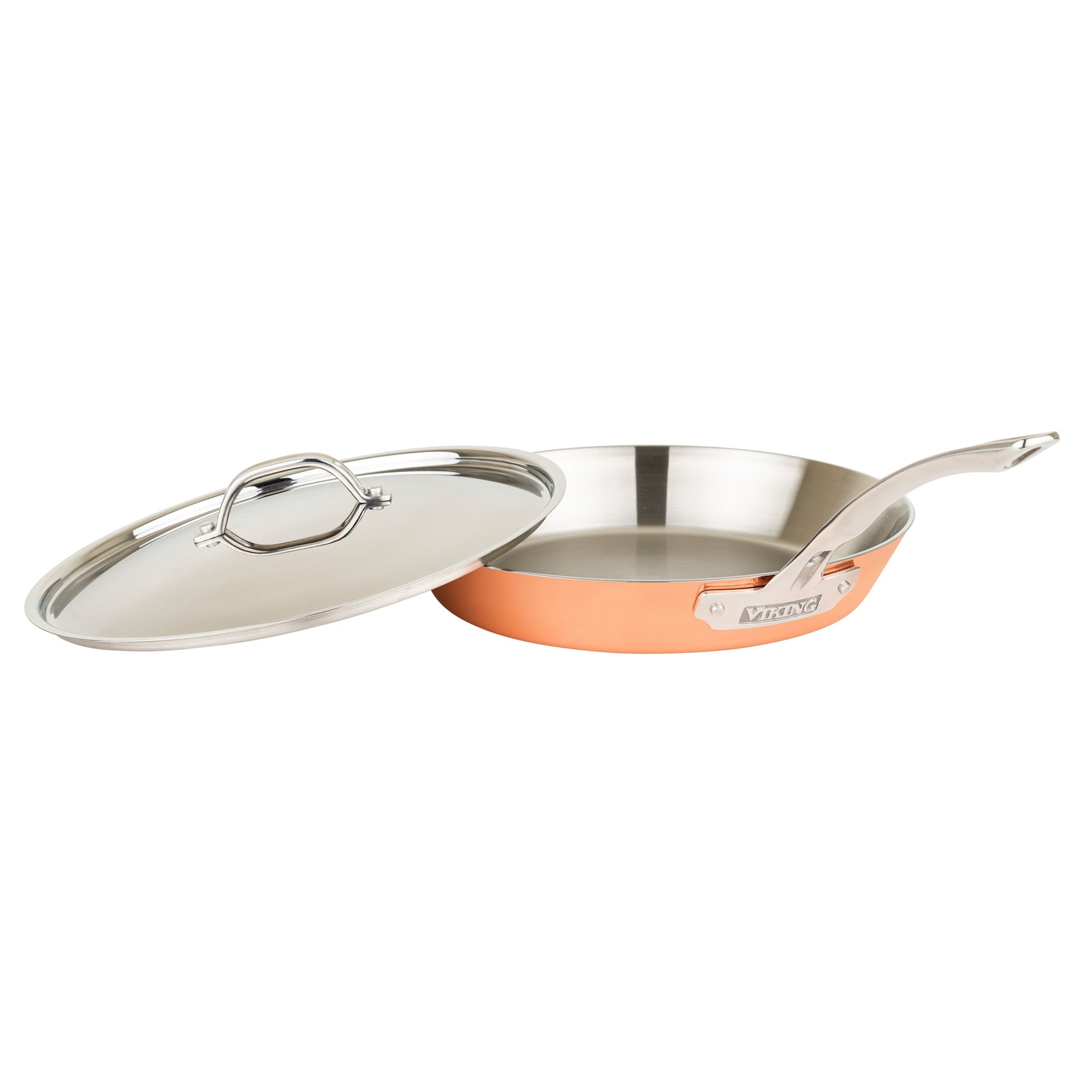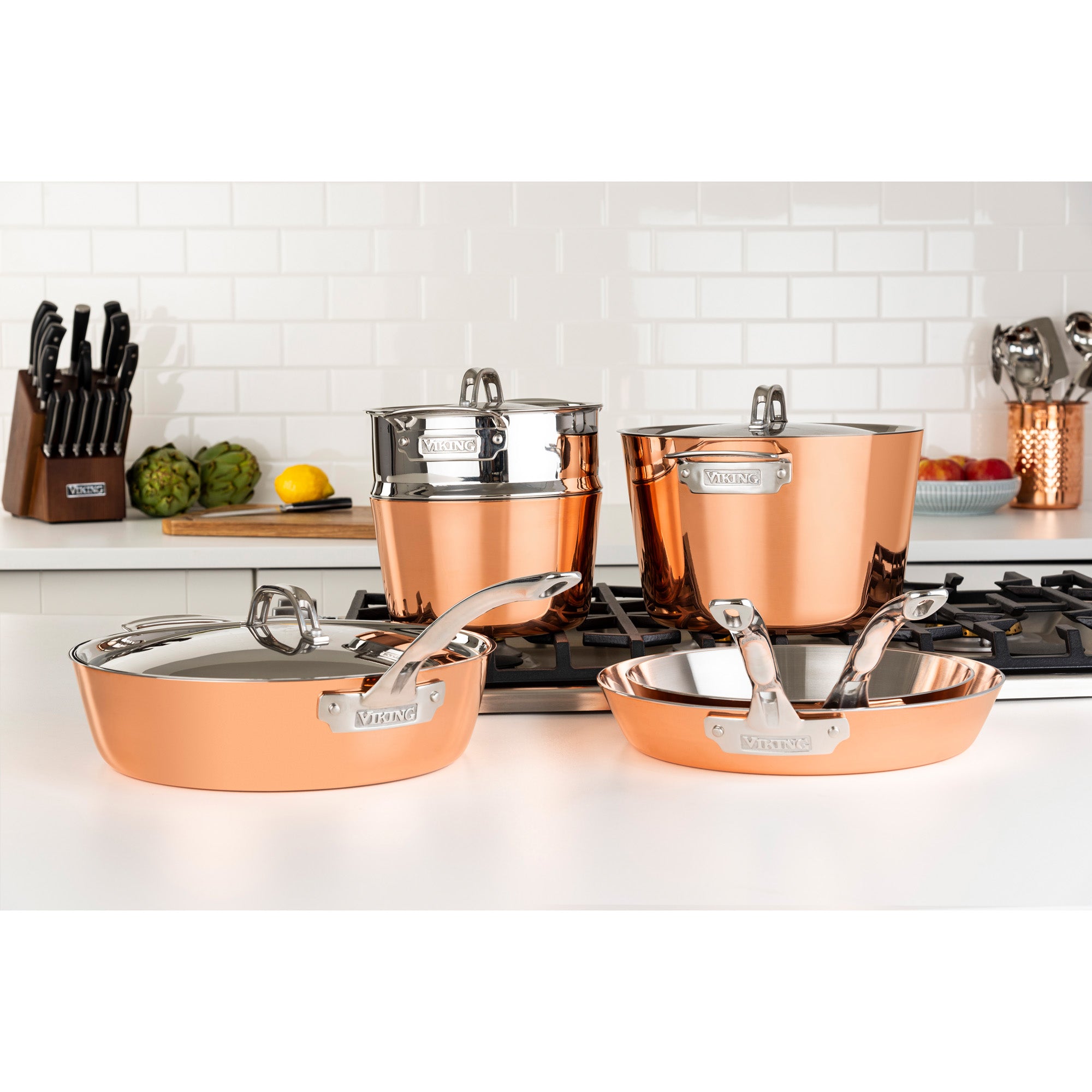 Viking Contemporary 4-Ply Copper Clad 9-Piece Cookware Set with Metal Lids
Features:
Includes: 10-Inch & 12-Inch Fry Pans, 3.4-Quart Sauce Pan with Lid, 3.4-Quart Stainless Steel Steamer Insert, 4.8-Quart Sauté Pan with Lid & 8-Quart Stock Pot with Lid
4-Ply Construction - 304 Stainless Steel Interior, Aluminum Core, 304 Stainless Steel, and Solid Copper Exterior
Induction Capable - Copper Layer Removed from Bottom of Pans
Domed Metal Swing Lids - Stock Pot Lid fits 10-Inch Fry Pan, Sauté Lid fits 12-Inch Fry Pan
Riveted Signature Viking Stay-Cool Handles Designed for Balance, Comfort, and Control
Cookware & Lids are Oven Safe to 600°F/315°C in a Preheated Oven
Handwash Only
Limited Lifetime Warranty
The Viking 4-Ply Copper Contemporary Cookware modernizes cooking with copper by making it induction capable. Historically, traditional copper cookware is not induction compatible. The 4-ply construction of the Viking Copper Contemporary provides a cooking base that is induction friendly.

The cookware is designed to transfer heat efficiently across the bottom of the pan as well as up the sides thanks to the multi-ply clad construction. The exterior layer is copper for exceptional temperature control. The unexposed core is stainless steel and aluminum to transfer the heat quickly and evenly throughout the pan. The interior cooking surface is a non-reactive surgical grade 304 stainless steel. The benefit of the stainless steel cooking surface is that it will not react with the acids in your food or impart a metal taste to your food. To make the pan induction capable, we remove the copper layer from the bottom of the pan, exposing the stainless steel layer.

The set includes domed metal lids that help lock in flavor as you steam or braise. The domed shape helps the condensation fall back into the pan, keeping your food moist during cooking. To add functionality to the set, the lid for the 8 Qt. Stock Pot fits the 10-Inch Fry Pan and the lid for the 4.8 Qt. Sauté Pan fits the 12-Inch Fry Pan allowing you to use the fry pans covered or uncovered. The interior of the sauce pan, sauté pan, and stock pot feature convenient measurement marking to allow you to add water without having to use a separate measuring cup.

Viking Copper Contemporary is durable enough for stovetop use, functional enough to finish or cook dishes in the oven to 600°F and elegant enough to take to the table for serving.

We recommend hand washing to maintain the luster of your cookware. Enjoy the change in color from the rich patina that develops over time from multiple uses, or maintain the original finish using a copper polish like PennyBrite® by EZ Brite or mixing salt and lemon.